Yarn + Yoga Retreat
Call us at 208-882-7700 to get on the waitlist!
Join us for yoga, fiber arts, soaking and relaxing at Boulder Hot Springs, Montana!
Dates: October 20-22, 2023
This is a collaborative effort between friends, and a reboot of the event run by Kate Larson 2017-2019.  Kate has given us her blessing, Madeline Keller-King, Wooly Witch of the West, provides us with continuity from past event to present, and The Yarn Underground is facilitating the endeavor.
There are two parts to registering:
1. Sign up right here for the Retreat. 
2. Then, call the Boulder Hot Springs Lodge (406-225-4339) and book a room and meals, tell 'em you're with Yarn + Yoga!  (Are you local to Boulder, MT area?  Purchase the Retreat portion here, pay the hot springs an entry fee to soak, and you're in!)
(3.) Read all about the event, past events, your hosts, and what to expect, right here. There's a blog, FAQ, all sorts of inspiring pictures, please read and dream then come back here to book!

The highlights of the event:  soak and relax as much as you like, and join in for our informal programming as you wish, which includes
6-7 yoga sessions with Kelly Baraby of Helena
A goodie bag from The Yarn Underground
Onion Dyeing class with Madeline Keller-King
Informal drum carding and spinning sessions with Anna, Shelley, and Madeline
Fiber to blend
Spinning wheels, rigid heddle looms and drum carders available throughout the weekend!
An informal shopping experience courtesy of The Yarn Underground with spinning wheels, small looms, tools, and pretty yarns; Wooly Witch, with beautiful naturally dyed yarns and fiber; and A Wooly Nest with beautiful hand dyed batts and yarns.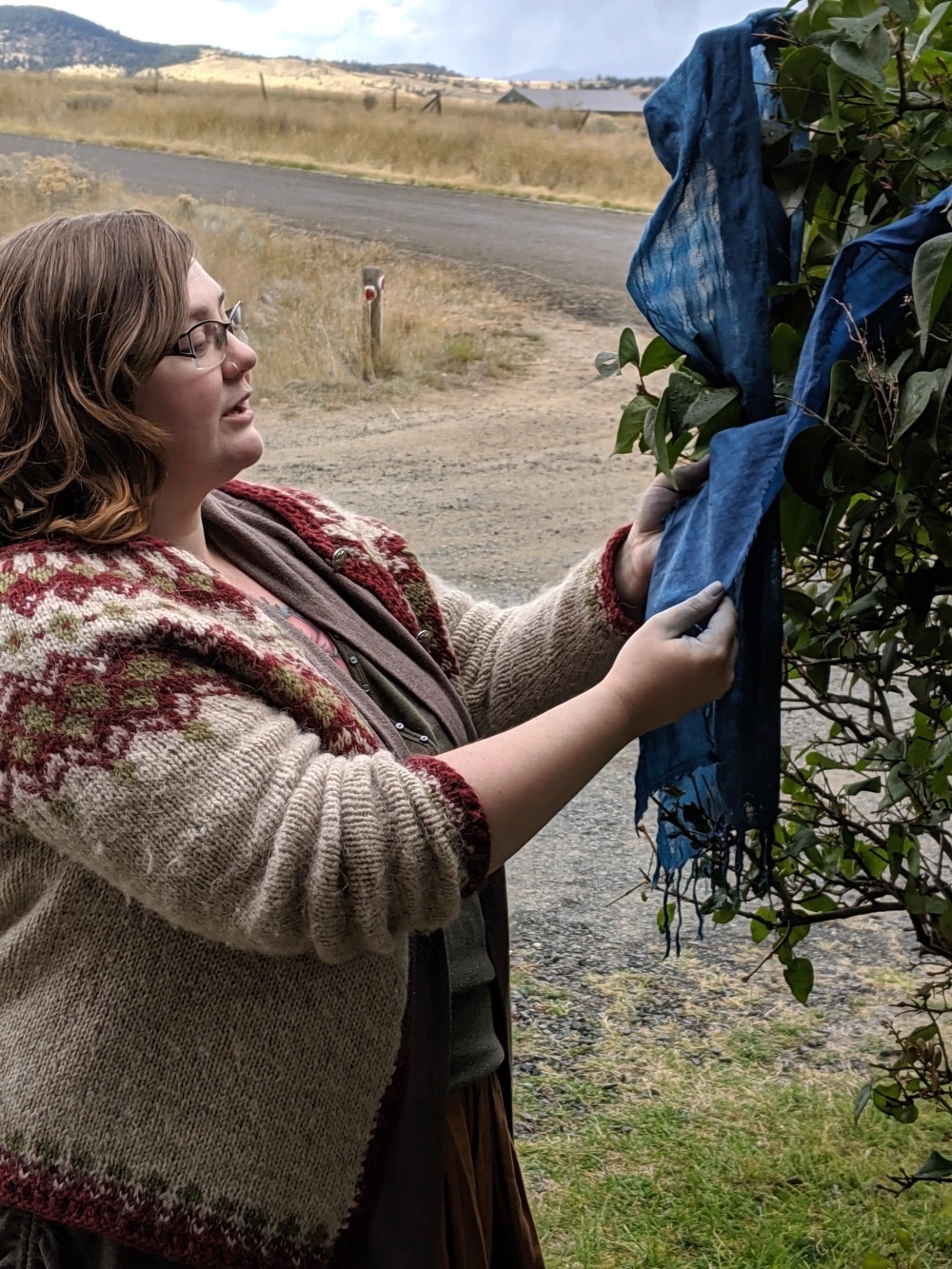 This is Madeline, you may have seen her at our Cabin Fever Spin In recently! You can read more about her work here.
Email us (Shelley and Madeline) with questions, at mindfulspi[email protected] and of course [email protected] as well.
----
CANCELLATION POLICY
Cancellation policy: Payment in full is due at time of registration. A 50% refund is available if you cancel on or before July 1, 2023. A 25% refund is available if you cancel on or before August 1, 2023. 
By registering and submitting payment, you acknowledge that you understand the cancellation policy. Contact us if you have any questions.