Getting started on the Maja Cardigan; choosing colors, keeping good notes, gauge in the round, swatching on a sleeve.
Hello and welcome to our deep winter Maja Cardigan Knit Virtual Along.  The folks at Jarbo, a Swedish yarn company, have published this pattern for free on Ravelry, so go get your copy there and come right back.  Jarbo will be hosting a KAL for Maja this year-  we haven't seen the dates announced yet, and we love the pattern so much, that we are delving in deep right here, starting now. 
Visit us here for the next 8-ish weeks for our virtual take on the important bits!  The highlights that we hope to cover:  choosing colors/size & starting a project with good habits; dominant color and proper tension; sleeves done, body done, join 'em; why short rows are great in sweaters, and we finally get to knit the pretty yoke; getting ready, it's time to reinforce that steek; now for the cutting, how to handle the cut edge; button band and button holes.
As a yarn store owner, I feel strongly about the shop's position in the crafting community.  This past year has been spent pivoting, growing the web shop, dyeing even more yarn than usual, corralling the family to be employees, and wondering what the future will bring.  Knit Nite, Free Help Friday, and Saturday classes were cancelled, as well as teaching and special events.  I miss y'all hanging out in the shop, being in big and boisterous gatherings, and I miss seeing those aha! moments of students learning new things.  So, I've chosen this project for personal growth and a way to reach out.  I've not steeked before, and this will be my first real lopi colorwork sweater, so join me and we will spend part of this winter delving deeper together!
First up, lets's play with color, since I know you just want to jump in.  This cardigan is going to be really easy to pick colors for.  There will be endless combos that will look good.  There are 4 colors and I think of them as:
A the band
B the body
C the yoke
D the pretty pop in the yoke
Now the color choices made in the original (Rust, Stone Blue, Straw, and Glacier Blue) when looked at for value (light or darkness) are 2 darker (Rust and Stone Blue), a light (Straw) and a pop of bright (Glacier Blue) that needs to be a different value than the yoke it sits on.  So, A and B can be very similar values, and they take about the same yardage so you can change your mind on which goes where later.  C is the most contrasty.
Here are some combos for you!  You'll notice the 2nd choice is the same as the model. And by no means are these the only choices.  Oh, and they are sort of upside down, sorry, the intended pop color (D) is at the top in every photo, cuz that's closer to how the sweater will look when done.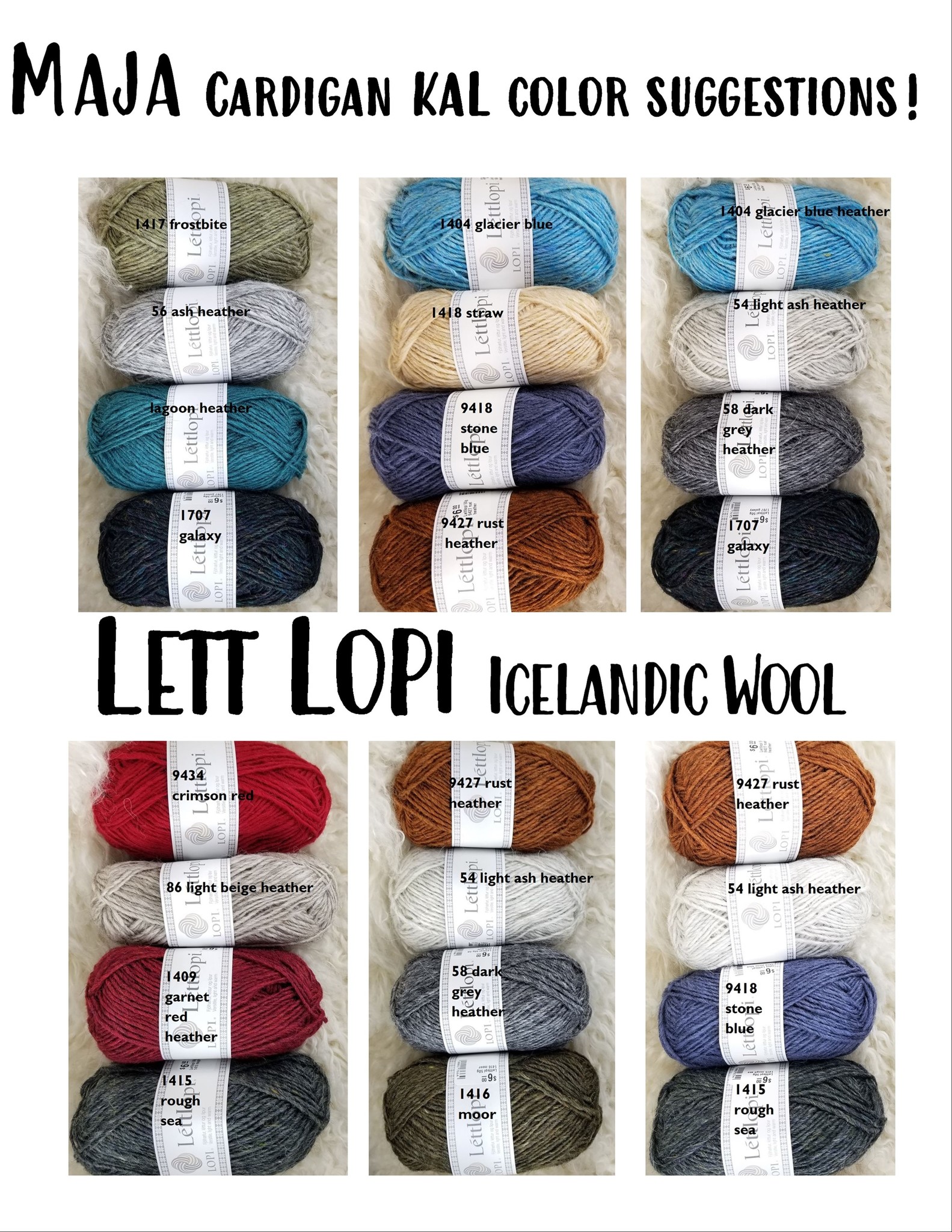 I know your next question is how many do I need, so.....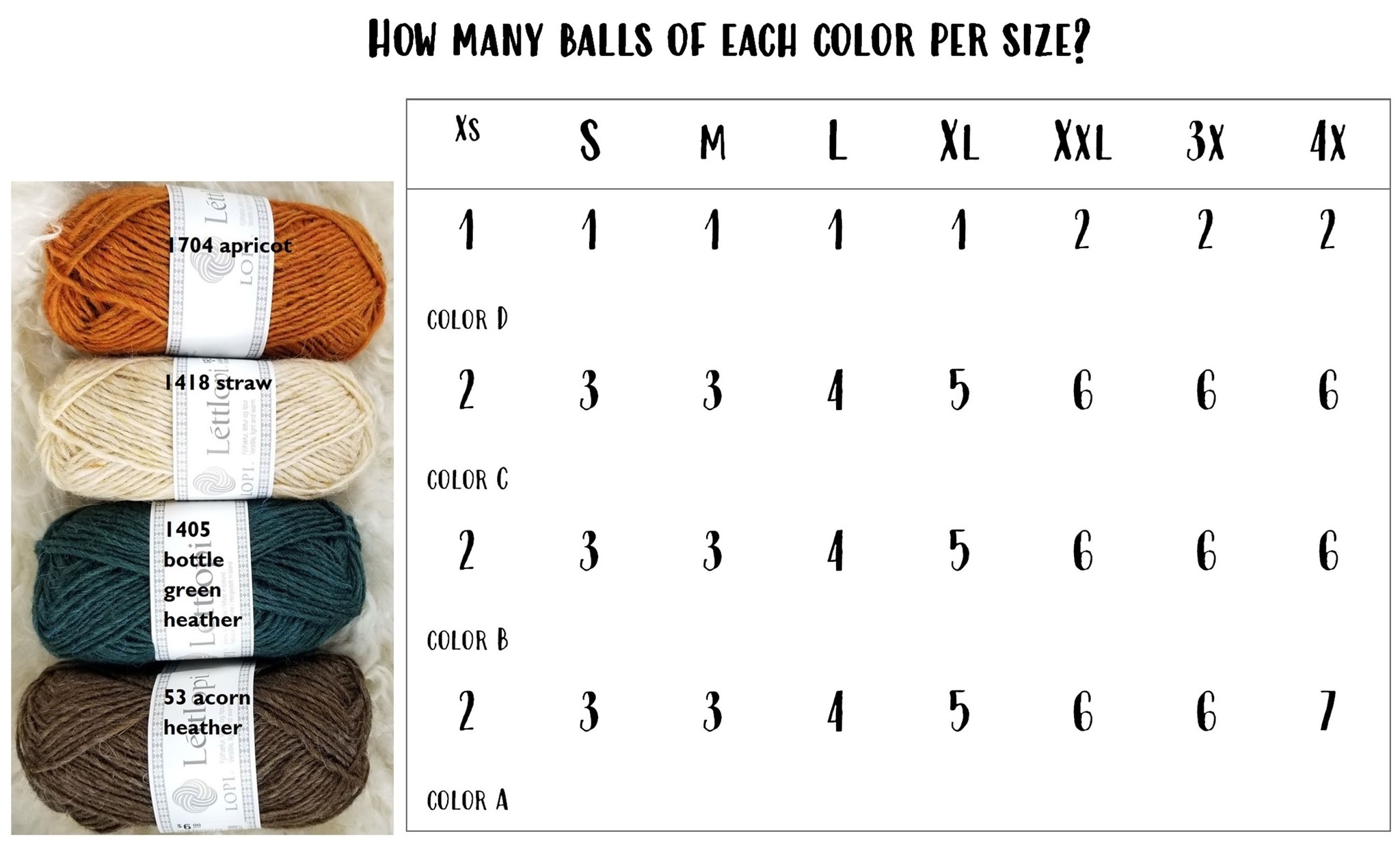 And I did some math for you from the metric given (and this is the size of the sweater, so add your measurement plus desired ease to arrive at one of these sizes):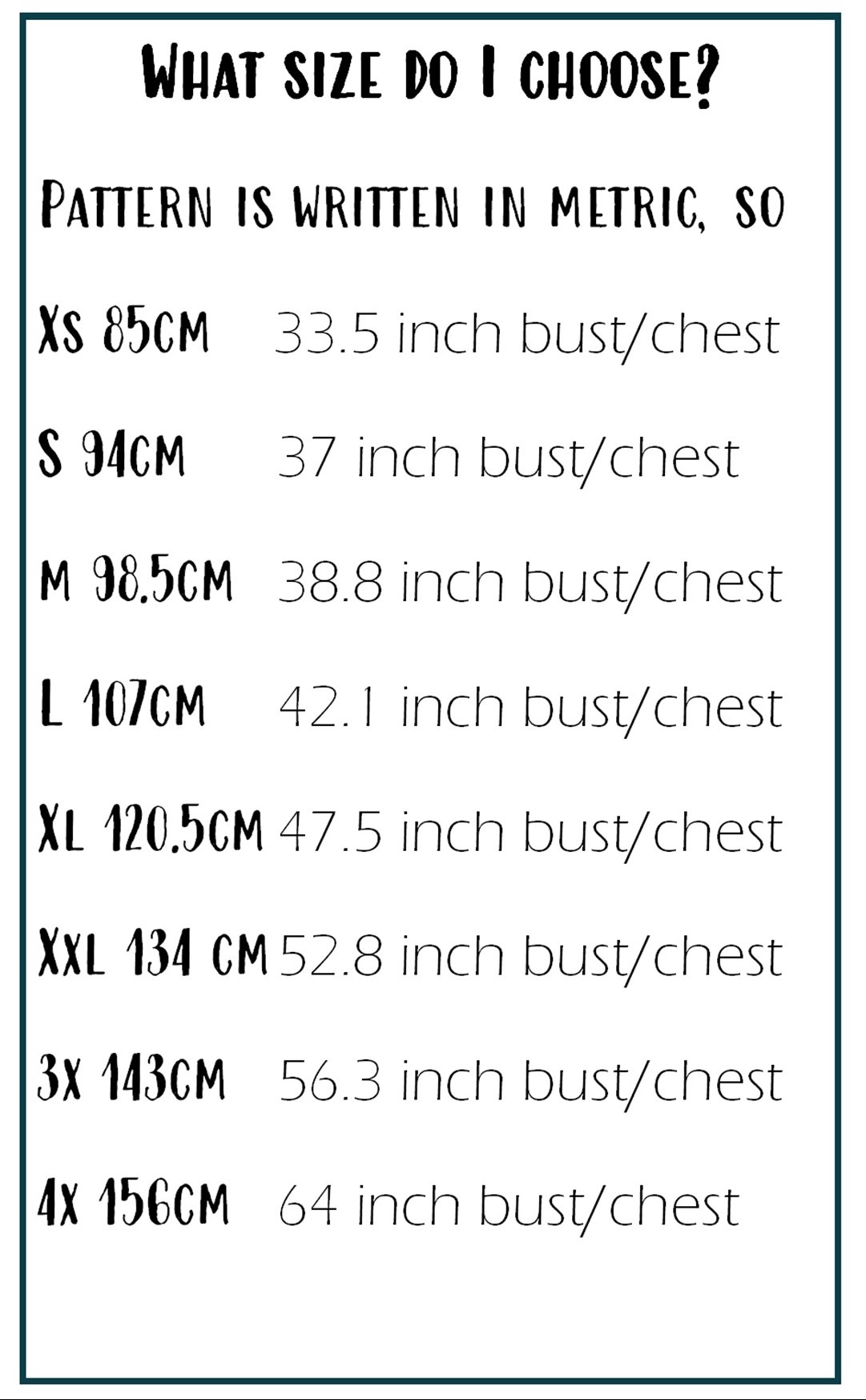 So, really, what size do I choose?
Take a bust/chest measurement.  Decide how closely you want the cardigan to fit.  Ease is not given in the pattern, so I suggest 2" to 8", I will be wearing long sleeves under this and might like a slightly looser fit.
Make a choice. Industry standard thinks we are all a 'B' which I can assure you is false.  So, for us smaller busted folks, err on the side of larger; for the larger busted — the rest of your sweater may be larger than anticipated, so choose the size of your bust but not much bigger.
My measurements: 88cm (34.5") over clothes.  I will be starting sleeves for the Medium and might change my mind by the time I get to the body plus I have a longer than average torso so that adds up to: buy for a Large, but start knitting the Medium sleeves with plans to check gauge and reassess before starting body.
Ok, now that you've jumped in and played with colors, let's get back to the business of being kind to your future self with some good habits.
1.  Write down your color names in 2 places -- once near the pattern's spec page and once on the colorwork chart.  Bonus points if you hole punch/ staple to attach actual strands of yarn to one of these areas.
2.  Circle your size choice and required needles.  If you make changes to the needle size, WRITE IT DOWN.
See, that did not take long and yet you've been kind to your future self by leaving a gentle reminder of your intentions.
Ok, I'm gonna start my knitting now!  Swatch?  How about a sleeve!  This is genius because for circular knitting, we should swatch in the round anyway and if all goes well with tension and color choices, I'll have... a sleeve.  If things don't go well and it resembles more of a lumpy swatch than a sleeve, then I've made ... a swatch.  And that's great, because learning is happening.  I am NOT a fan of ripping out swatches, there is hidden information in there, maybe leave it intact until you actually absolutely need it.
Needles?  I am a fan of 8" dpn's for this.  Even though points get in the way.  Even though there are all those scary ends to lose stitches off.  There is something ages-old about this process that I love.  I will be using Hiya Hiya bamboos if I can find my 7's which are in some other project... if not, then it will be my Dreamz charcoal colored dpns.  I like the bamboo better for this, they have a duller tip.
Opposed to this idea? You could use Magic Loop, or one of those tiny 9" or 12" needles.
Ok this is the moment that makes your blog-reading time worthwhile.  With a small circumference colorwork project, tight floats will be a detriment but also hard to avoid.  UNLESS you flip your knitting inside out!  Pro tip of the day, knit so the floats are on the outside of the tube so they have a better chance of being nice and loose.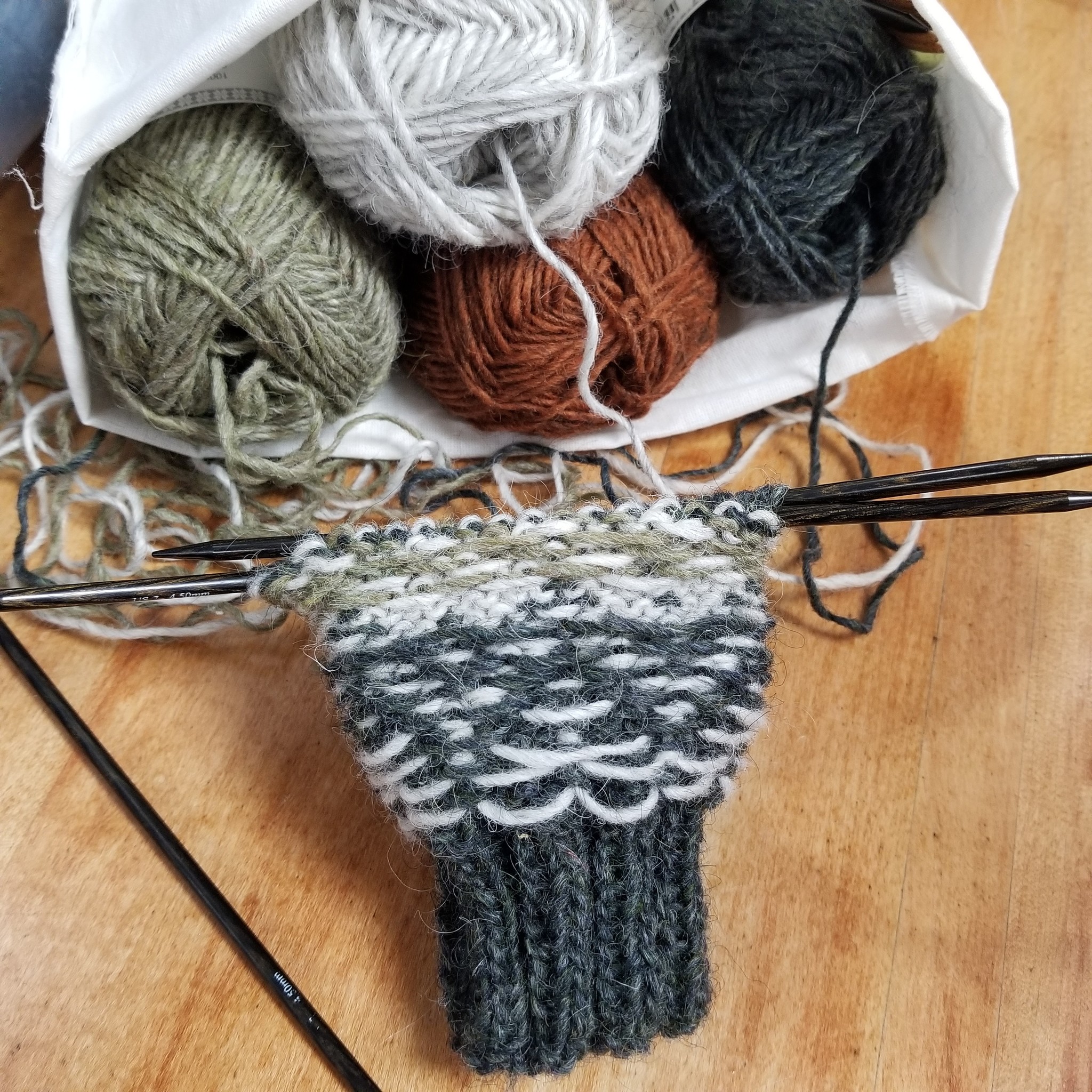 Thanks for reading, I hope you choose to snap up some Lett Lopi of your choice and some Hiya Hiya bamboo DPNS and jump on in with me.  See you next week.