The pretty pretty yoke is almost finished! Time consider that steek again.
So we've gotten this far!  We've joined in the round with symmetrically placed armpits therefore sleeves, we've adjusted the stitch count for our size, and now to tackle that last colorwork.
Yes, it's the biggest swath of colorwork yet!  And, the stitch count is the largest in the entire sweater! BUT the rows get shorter as we go, and it's a great time to sit back and practice those loose happy floats while pondering color dominance.  There is nothing new going on here, just periodic decrease rows which are thoughtfully placed in one-color rows.
I am not a fan of catching floats, to me the chance of the color showing through is more upsetting than flyaway floats.  What about you?  Check em out, my floats are very... floaty.
What are you loving most about this project?  Worries?  Other thoughts? I've added a couple short rows, right after joining the sleeves to body, and another in the first single color row in the yoke pattern.  No biggie, just to add a little ease for my own personal fit.
This is the calm before the storm, where I feel impatient to be finished but twitterpated about the next step.  That next step is like a diving board we creep out on, hoping for the bravery to jump; don't worry, we got this.  Let's look at those ideas of steek reinforcing again, familiarity will make this less scary.
I've got 2 models to share with you, both steeked.  Jen has been kind enough to loan them to the shop for a while and they are definitely worth coming in to see.
First up, the Hind Sweater from Istex book #34 which we do have in the shop.  Reindeer!  Jen made an xl with about 9 balls of black and 2 white.  Knit in the round on size 7's with a 2 stitch steek, this one is reinforced by needle felting!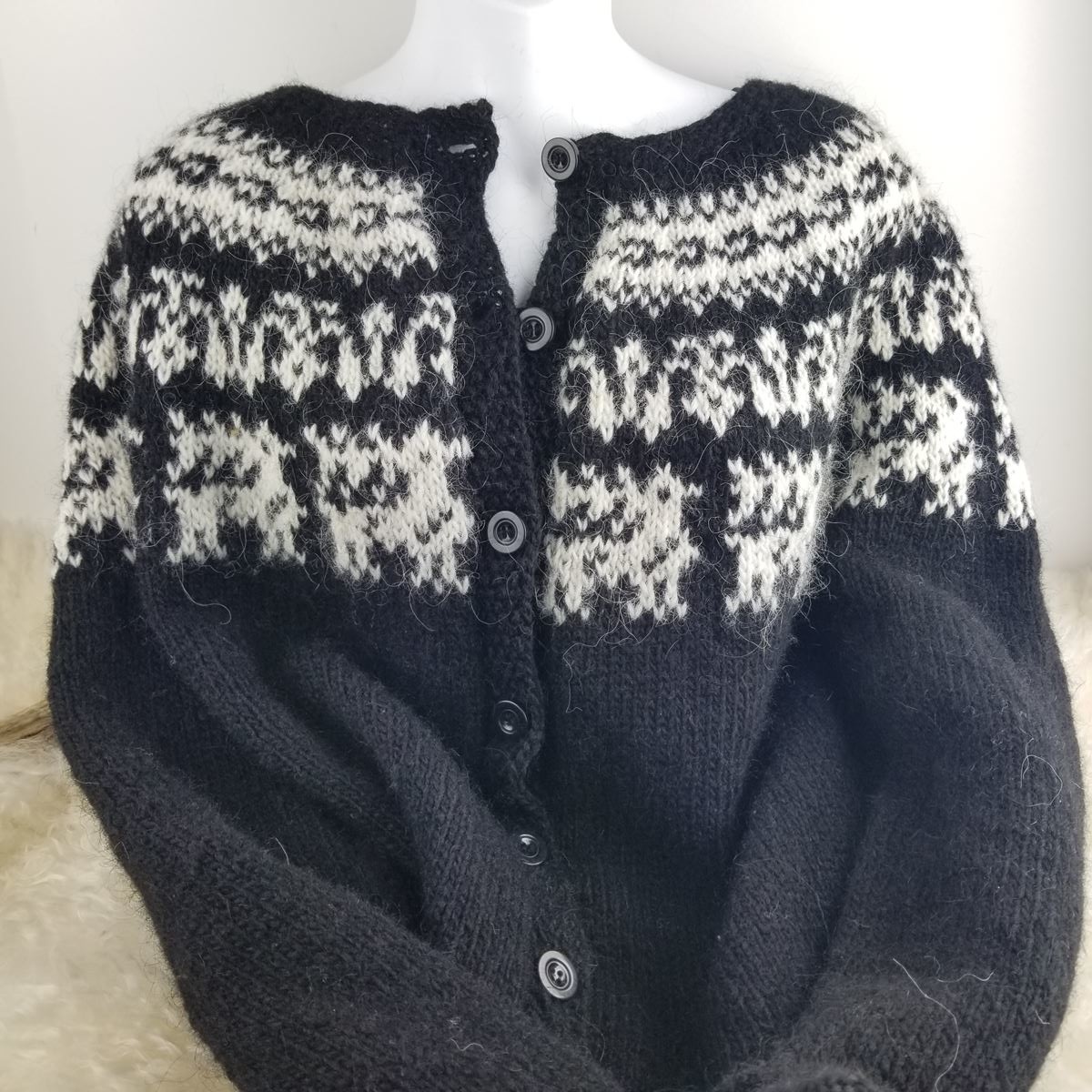 This is the button band on the right side.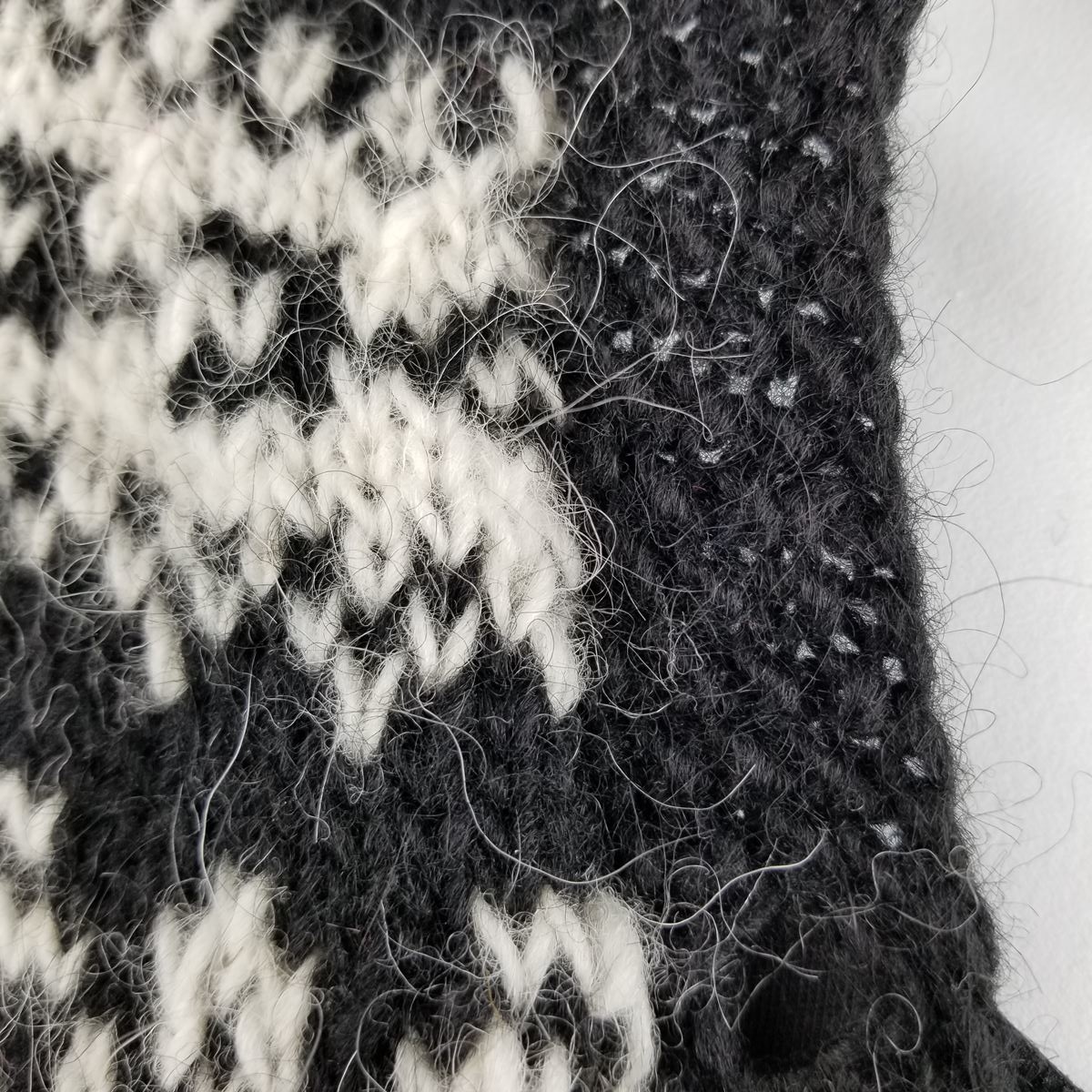 and here is the wrong side: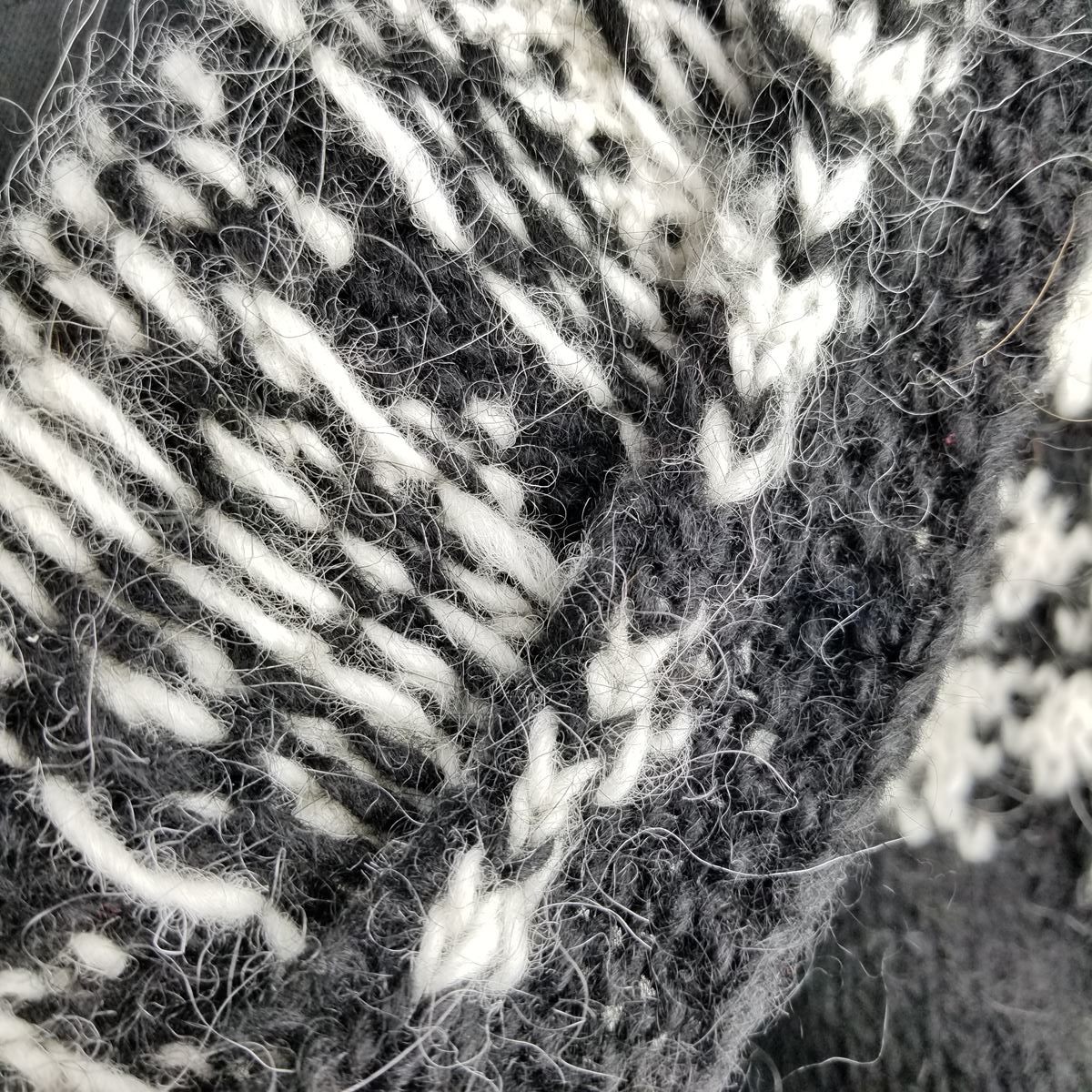 You can't really see the needlefelting as much as feel it, it is denser.  Jen says that the Clover Large Needle Felting Mat is the way to go, along with the Clover Felting Tool.  This is the best aid we have found that doesn't leave little bits of foam in your project, and as it is really important to not distort the project as you needle felt up the steek area. This mat is made of nylon bristles and wool doesn't stick so it won't need to be pulled off, which is a source of possible distortion.
Next, we've got this awesome Lett Lopi blanket here to look at too.  This is the Brim Blanket, a pattern in Istex Lopi Book #37 and we've got that one in stock too, knit on US8's with about 2 balls of 6 different blues/greys plus 3ish balls of black.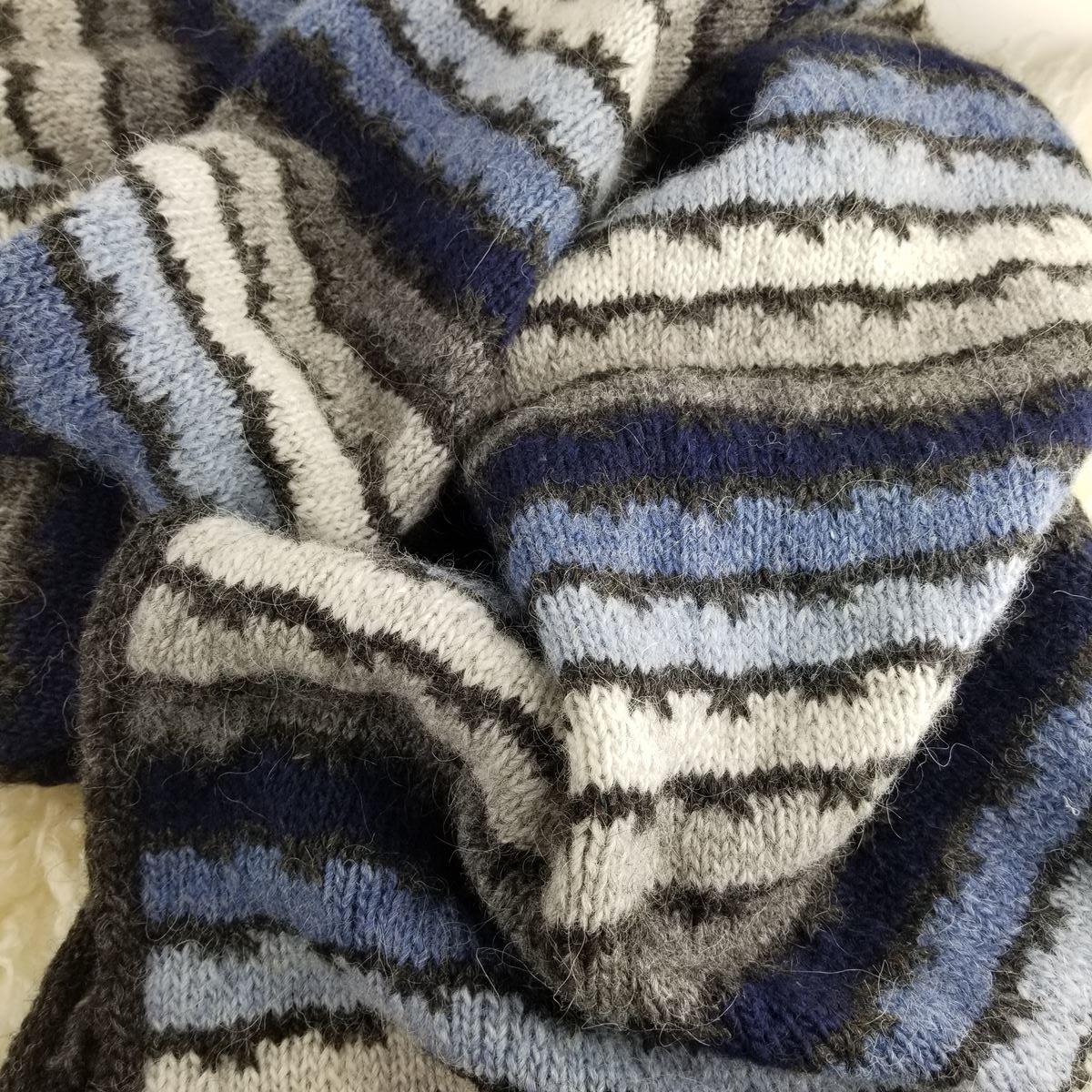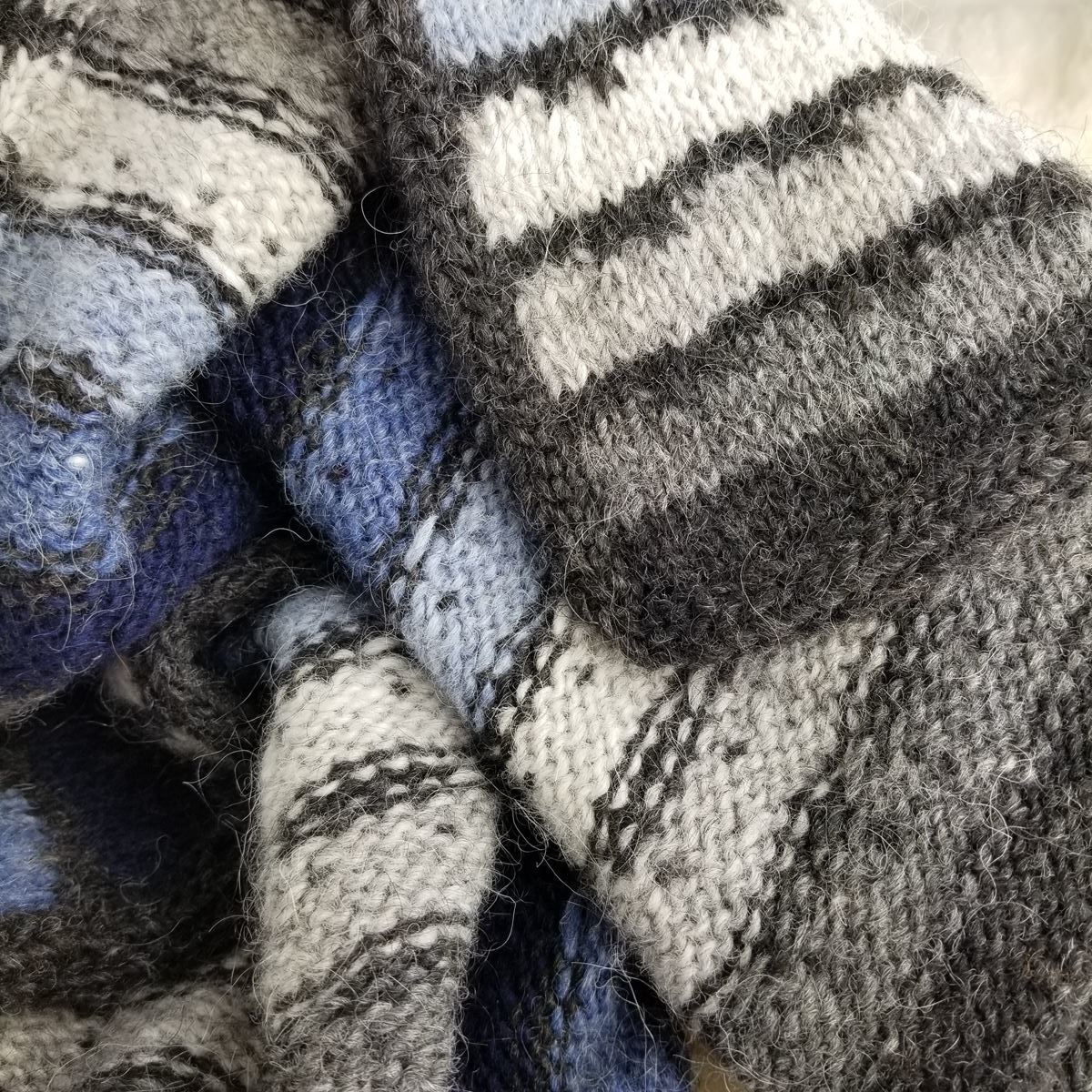 Now this one also has a 2 stitch steek, and it was machine stitched then cut.  Then, the icord edging was knit on.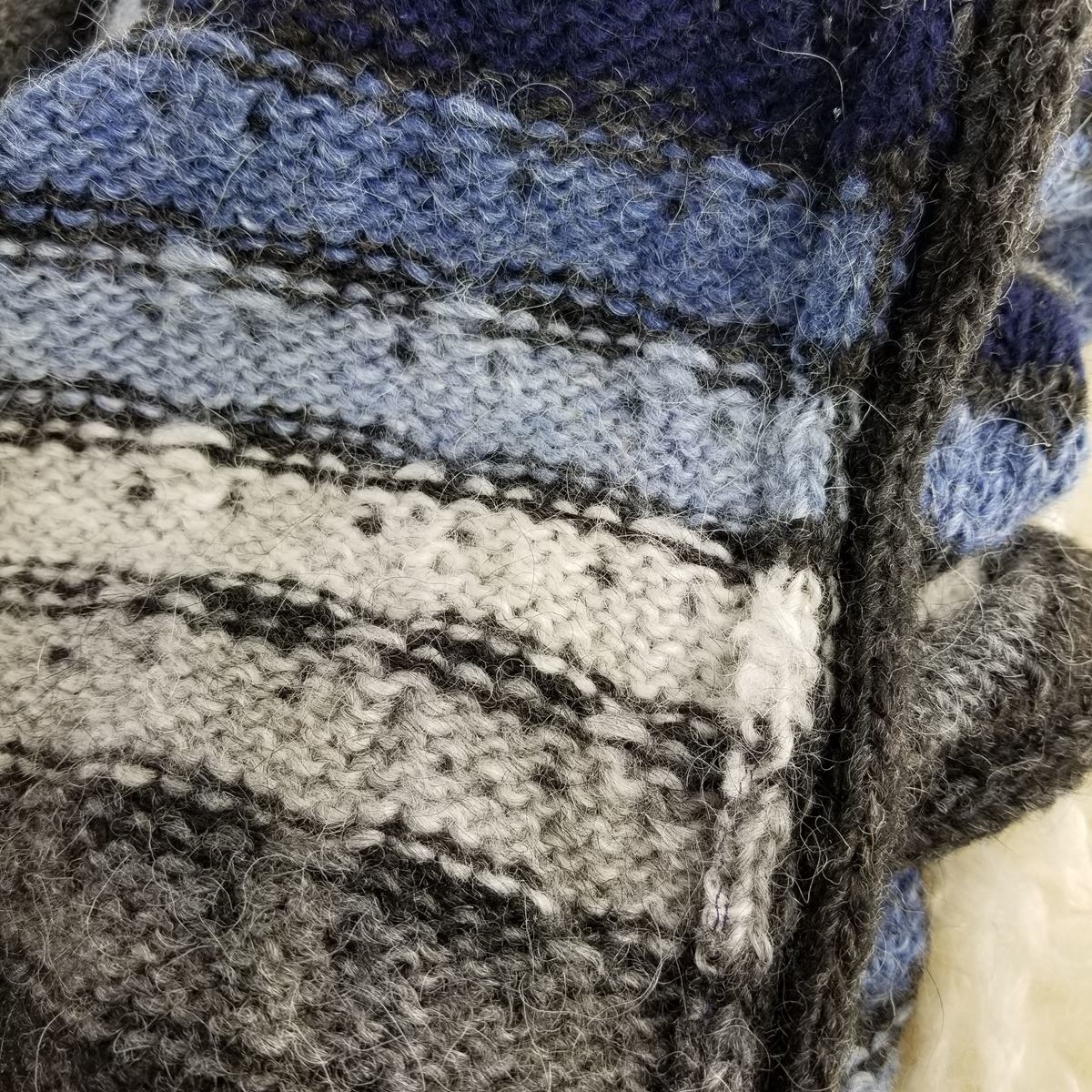 You can see the machine stitching here: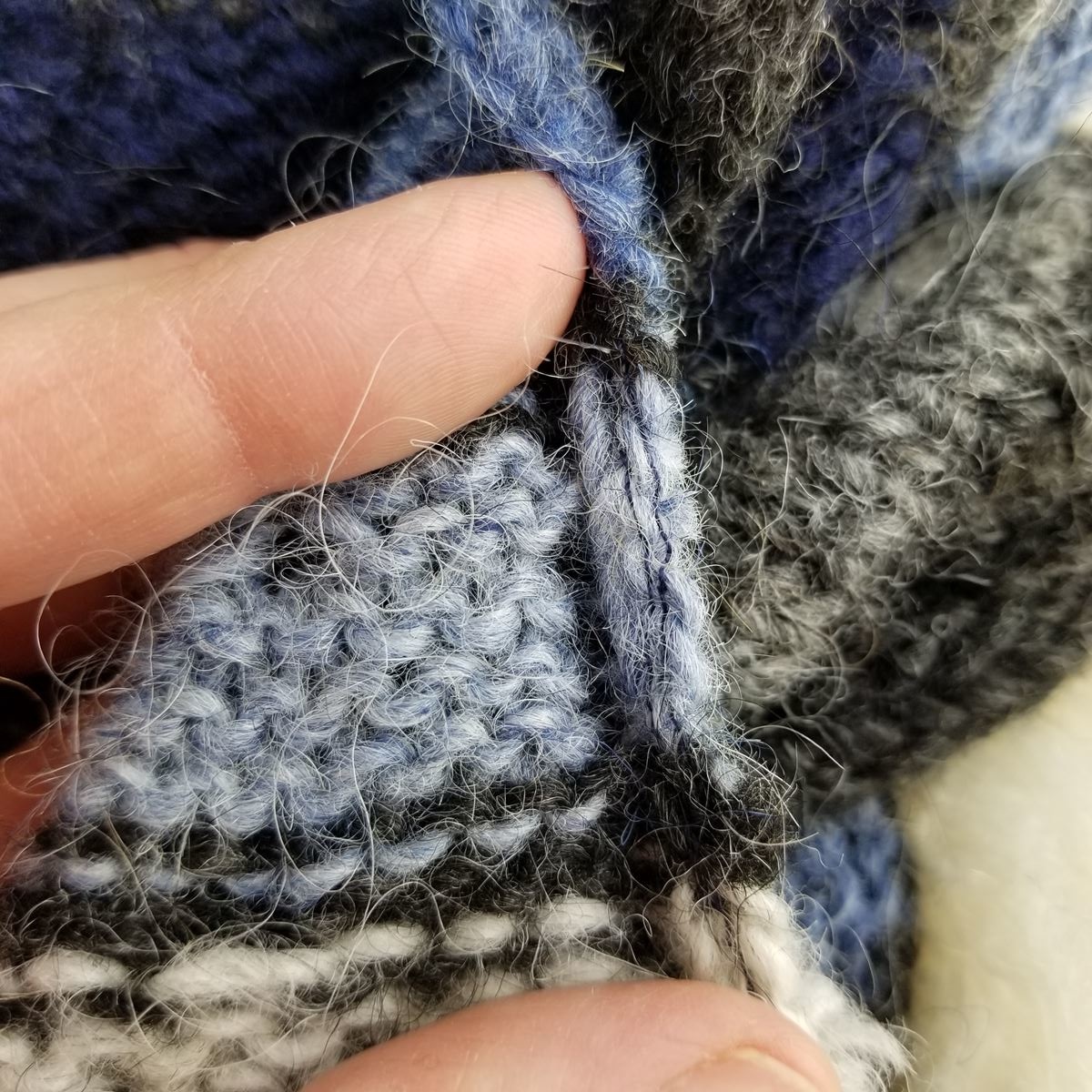 Now, I'm leaning towards needle felting mine after seeing Jen's!  But this machine stitching hides right in here, and isn't obviously restrictive in the wool fabric, so that is good to note.
What will you choose?
Next up:  Reinforce it, dwell for a moment upon completion but not, then go for it!  Time to steek.