Joining the body and sleeves, now it looks like a real sweater!
We have made it so far, and this moment of care and mindfulness will set us up for sweater success.
When joining the sleeves to the body and there is no colorwork pattern established, it's pretty easy-peasy. As long as we get those sleeves on opposite sides of the sweater and the underarm bind offs have a similar stitch count, we should be golden.  So let's do it.
The first thing I do at this point is re-measure the sleeve lengths (by way of measuring tape OR counting the rows between the last cuff colorwork to the live stitches, inclusive of the live stitch row) and write them down.  Just because it's one of those kindnesses to your future self, and akin to a lifeline where if circumstances arise necessitating a rip-back, at least we have this knowledge here.
MY sweater, it's a medium but please refer to your pattern for YOUR correct stitch counts
Left sleeve length:  18.5 inches
Right sleeve length:  18.5 inches
Body length:  12.5"
And then while you are counting, go ahead and write these down too:
Left sleeve stitch count:  60 sts
Right sleeve stitch count:  60 sts
Body stitch count:  177 sts (excluding 2 steek sts)
Now, that's a total of 297 stitches but these are not numbers to add together yet, there are armpit stitches.  Apologies, if there is a better word I can't recall, but 'armpit' is explanatory, albeit sensorily loaded, so there will be a lotta armpits in this post.  Your pattern tells you exactly how many stitches to do what with, but I'm a Why girl, not a Do What Your Told girl.
IF your stitch counts are not exactly equal, good news!  You are at a juncture of multiple ways to address this:  1, add or subtract while dealing with the armpit area. 2, after the joining there are a couple rows of plain knitting with leeway to add or subtract stitches in preparation for the yoke colorwork.
Next, go read your pattern and let's snap some removable stitch markers into the body's live stitches in places to mark the beginning and end of the 2 armpits.  For the medium, I'm looking to visually separate 10 stitches centered around the left side of the body and 10 on the right.
And, mirroring those 10 stitches on the left and right of the body, are 10 stitches on each sleeve.  Now here make sure to center the sleeve's BOR in the 10 stitches, I will slide them onto a new DPN (if you have followed the pattern to a T, then your sleeves already have 10 sts each on a holder).  This is the super important part, making sure the beginning of round to be facing down, centered under the armpit, where it will be seen the least.
So, end results are the same, a 10-stitch seam under each armpit, but I've always wondered why no one uses a 3-needle bind off; maybe it is perceived as extra bulk?  Now you could leave all of those 10-stitch groups on holders to deal with later, but I am going to 3-needle-style bind them off as I go.
Knit across the front right body, 3-needle BO the 10 sleeve stitches to the 10 marked body stitches using the same yarn, keep going across the back, repeat the 3-needle BO, knit across the left front.  Dealt with! Done! Your next knit round will take you across the right front, then the right sleeve stitches, the back, the left sleeve sts, and the left front.  The only fiddly bit here is getting those sleeve stitches off of a holder or waste yarn, if that's how they were; mine cooperated right off their DPN's.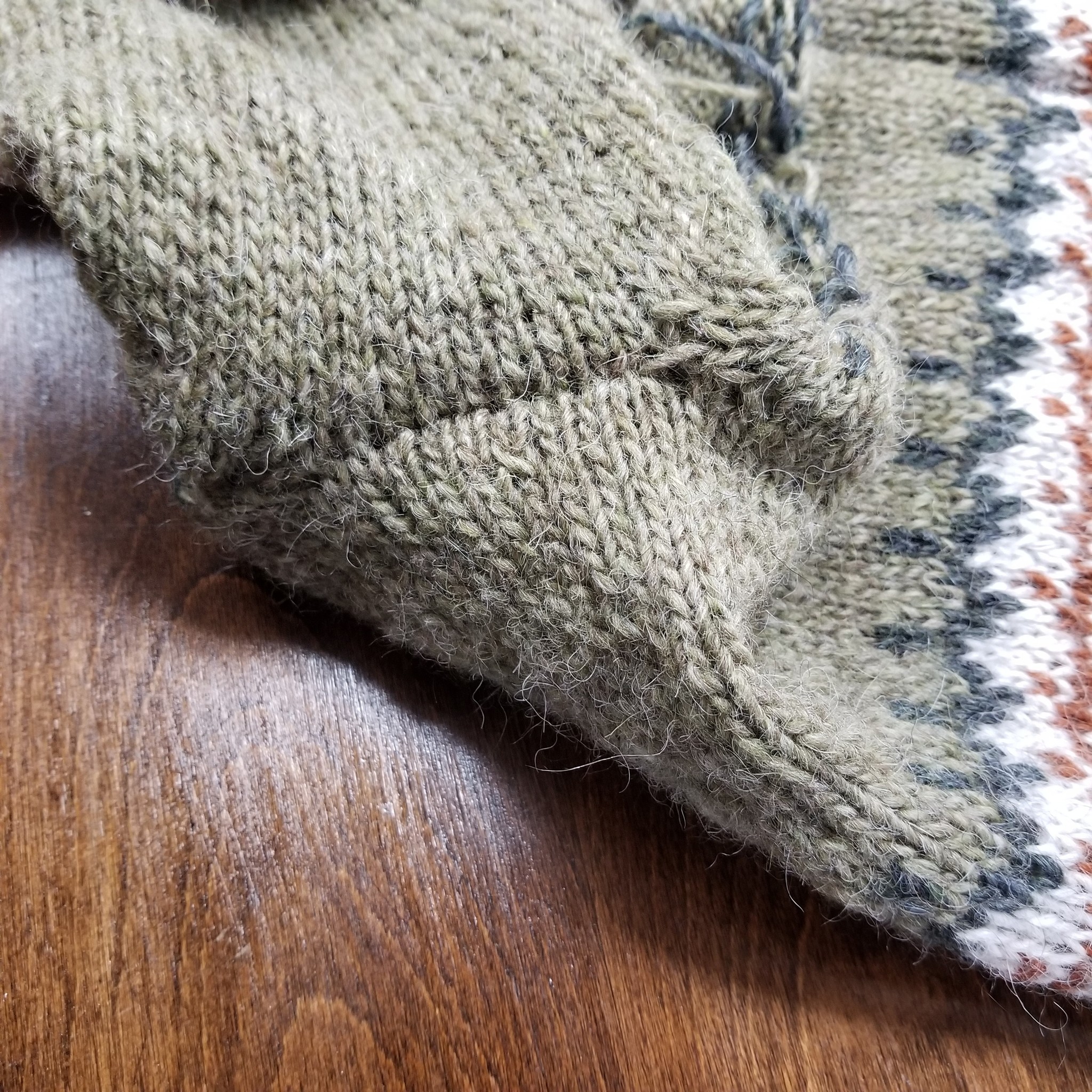 Oh, and as with any armpit, there will be holes.  You can:  1, create a one-stitch cable as you go across the gap that is forming, 2, pick up an extra stitch and decrease it out on the next row, or 3, sew them up later as you weave in the last ends. I use some combination of these methods, definitely using the tail to best advantage.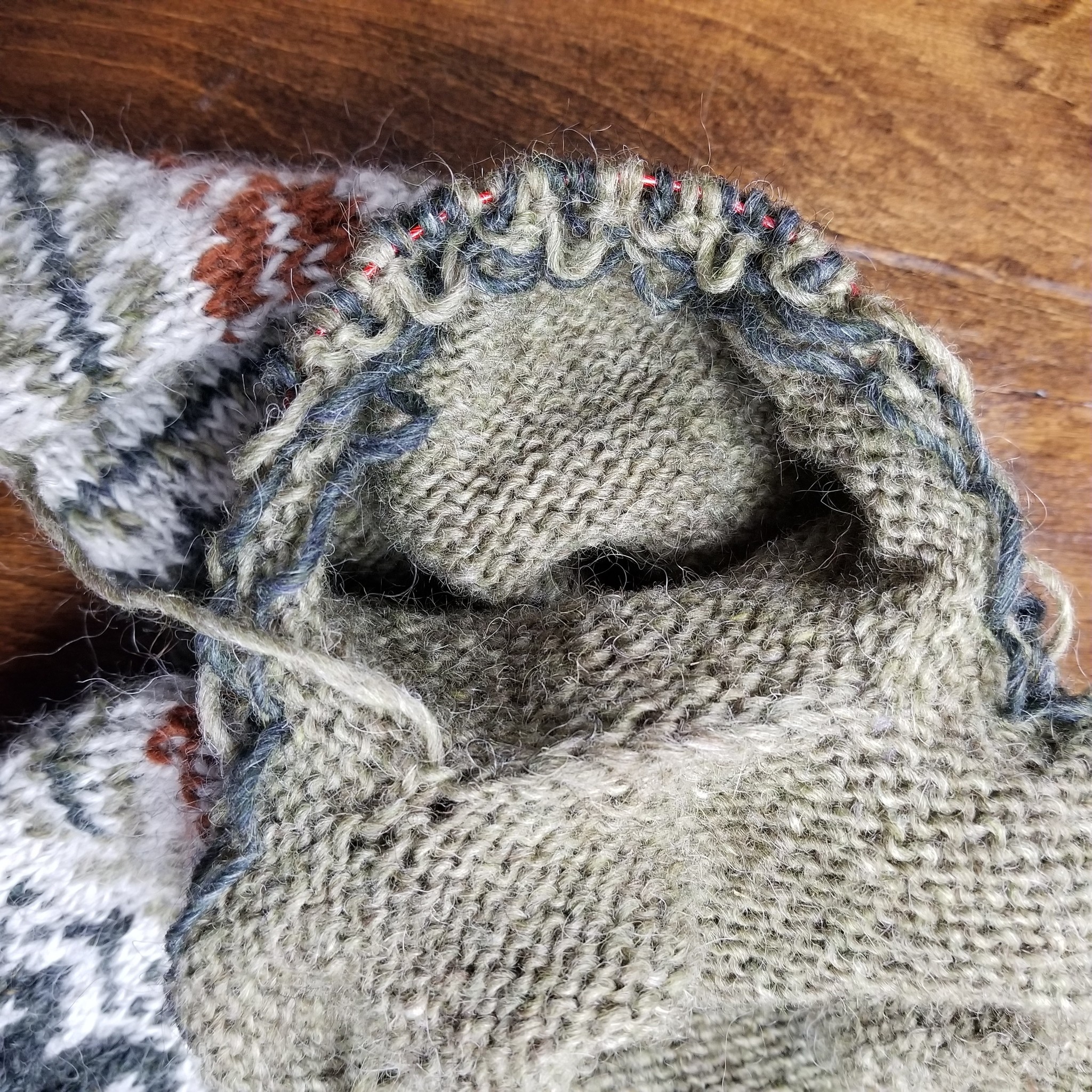 Congratulations, your hard work now resembles a sweater!
One last thing, not in the pattern but I'm adding to mine:  a short row or two.  Over time we learn how the average pattern fits our body, and what I know for me is, that due to my shortage of bust, a pattern for my size is inevitably small in the shoulders (it thinks since I have a small bust, then logically my shoulders are smaller which is not the case).  Anyway, one small help I have found for my own needs is to add a short row, right about now.  And maybe another a little farther up the yoke, but right now is a good time due to the absence of patterning.  I'll be squeezing in a short row between the back of one armpit to the back of the other, it will give me almost a 1/2 inch of vertical length.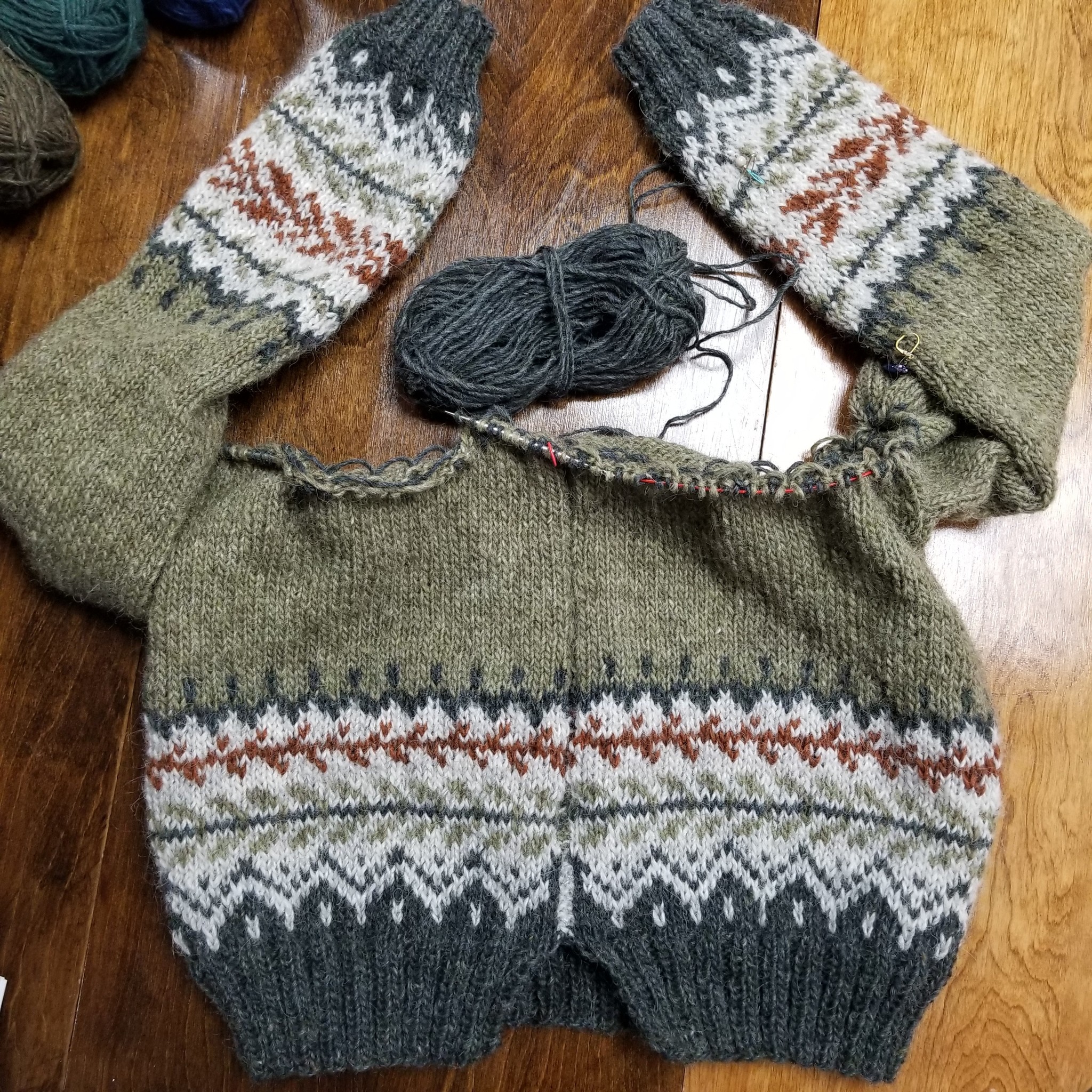 On to the yoke!  This is so exciting!  But first, comments and progress from the week:
From Cyndi,
I added a couple centimeters to the body before I joined the arms because I was worried it would be too short.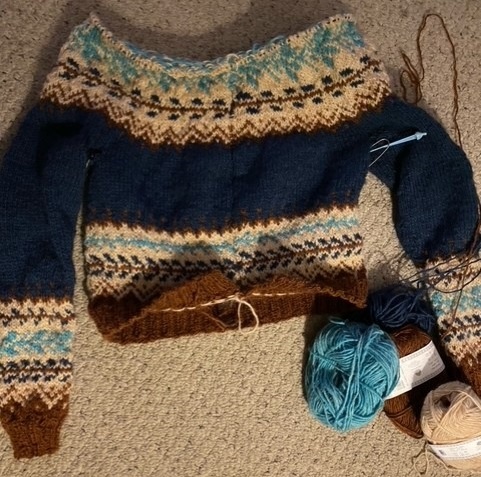 From Marguerite,
So far so good ... steeking is still a little scary but the next step.

As you mentioned, I expected the floats as I did them (Philospher's wool method) to be a little less stretchy than carrying floats of several stitches, but they seem to be about the same and the stranded sections have plenty of give.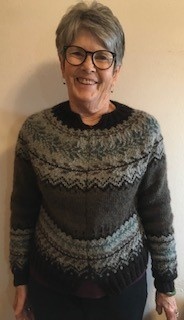 Way to go, all!  Next up, getting ready for the steek!!