A fresh new classic finished, and so much learned.
So, last week I shared the inside of my sweater with all its ends.  Then, I went ahead and smoothed all of those ends out, determining if each would like to lay to the right or to the left-- since needle felting happens here, it makes sense to make it nice and flat with organized strands to reduce bulk.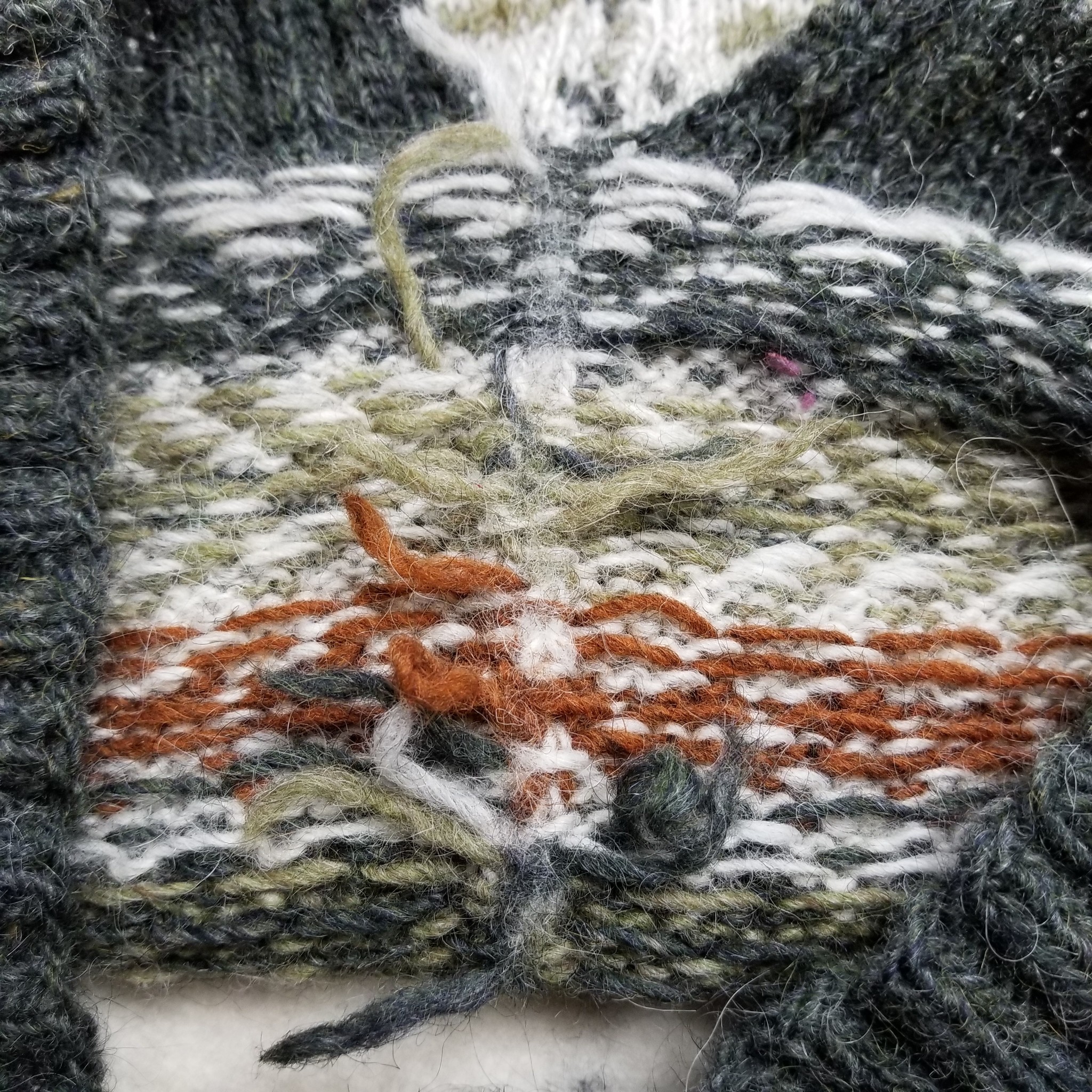 I shared a quick video of needle felting this steek, here is is on IG.  So, I made a few passes and then Jen and I went ahead and just cut it.  Whew.  It only takes two if you need someone to hold the camera or your hand, moral support highly recommended.
Here's that video on FB.  And just like that, this pullover is a cardigan.
So, time to pick up for that button band.  The pattern recommends the rate of 2/3 (i think that's a function, right?  Lots of jr. high math going on in my house, recently about functions and linear equations, so here's that real life example!)  So, I did.  When you pick up at a rate of 2 stitches for every 3 rows, you get these neatly paired stitches which is great for counting out 2x2 ribbing. 
PSA, don't forget that 2x2 ribbing is a multiple of 4, yes, but not a symmetrical 4, so on your band you would like to pick up a multiple of 4, plus another 2, ensuring you can have a button band that starts and ends with a pretty k2.
So, I picked up and knit on those stitches with my contrast color, and there's a little video of that too.  As I went, I got a little nervous about my felting job, I'm not gonna lie, so I went over it again. And NOW I have an opinion about the needle felted steek.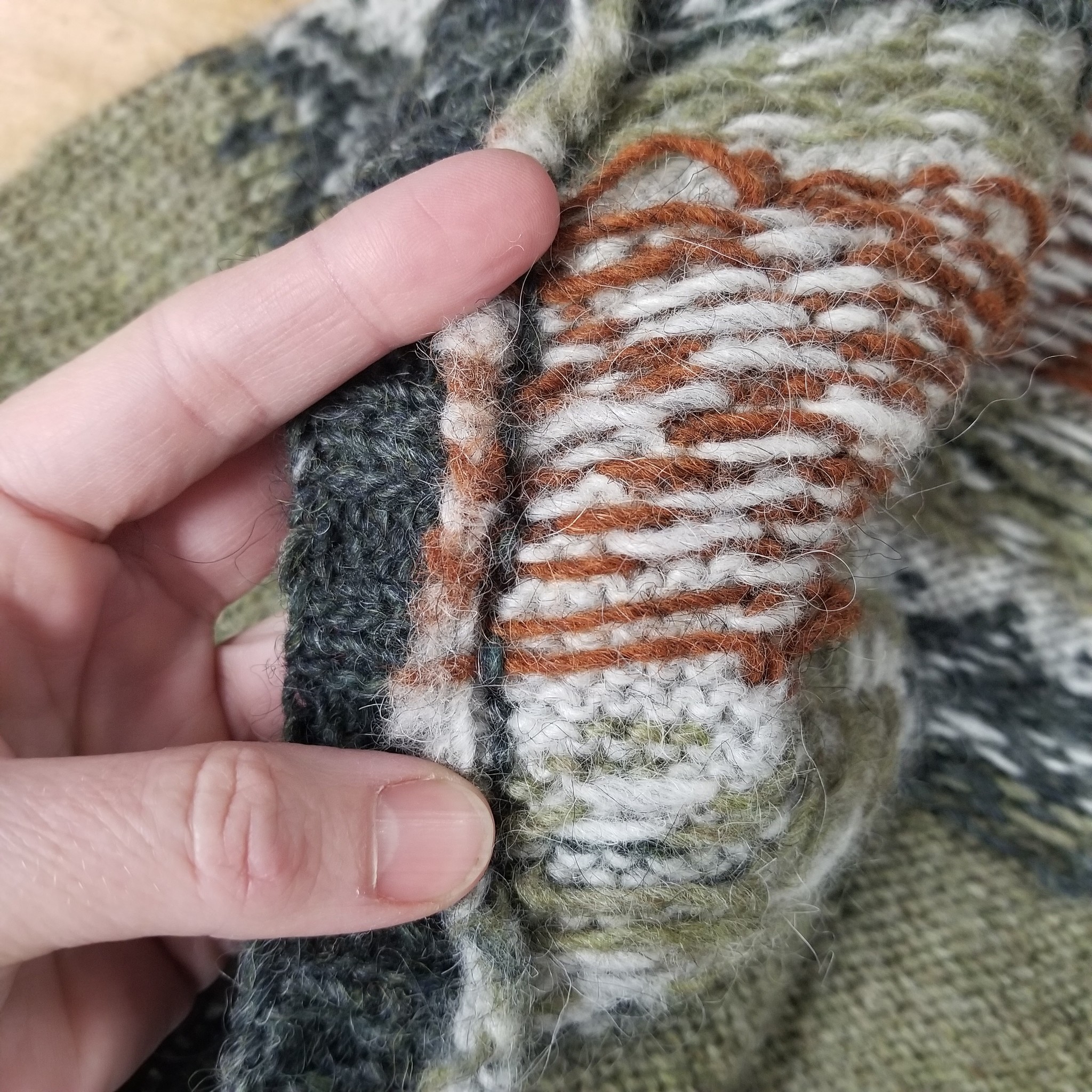 I love it.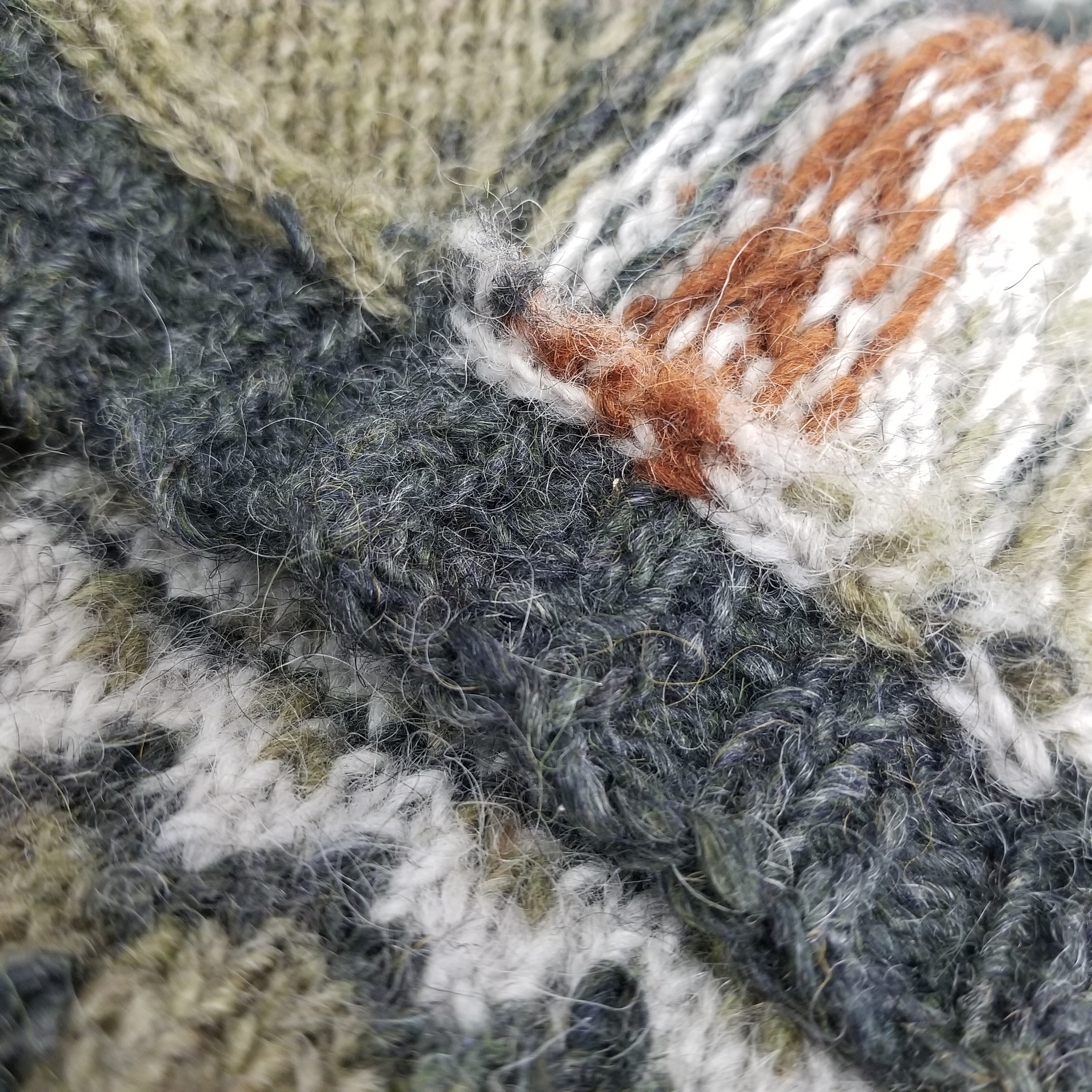 Needle felting the steek area initially gave some stability to the region, and GOING BACK OVER IT solidified the cut edge into a nice fuzzy, slightly stiff, edge of fabric that likes to roll under and behave.  Fabric.  That is substantially different than just cut ends of yarn. 
I now feel pretty confident in this technique for reinforcing, and when I steek again, it will be this same method.  Or possibly, my next choice would be to make the steek area wider by a few more stitches and cut without worry!
One last pic.  Bands knit but not blocked.  Button holes are there... next time I get a trip anywhere I will be on the search for buttons.  This warm little sweater will be living in the shop for a while, and you are always welcome to come squeeze it again.
Of my original yarn buy, I ran out of Frostbite (light green body) and used 15g of a new one, mostly to add a couple rows to the body for a total of:
4 balls Frostbite (2/3 of the extra ball left)
3 balls Rough Sea (half a ball left)
3 balls Light Ash (less than half a ball left)
1 ball Rust (less than half a ball left)
That's 11 balls of Lett Lopi, cost $66, for a wonderfully wearable wardrobe winter staple.
May your sweaters keep you warm for many years to come!