Midway progress, time to sew in some ends, and other musings
This is one of those times of involuntary thoughts popping up, saying, wow there is so much of this really involved project left, maybe I'll put it down for a while and do something else.
That's a nice thought and we all know where it leads, I won't even give space to THAT imagery.  So, instead, I will be taking this time to weave in some ends!  That should take me from 49% done to at least 52% done, which makes all the difference cuz that is LESS than halfway to finishing and MORE than halfway finished already.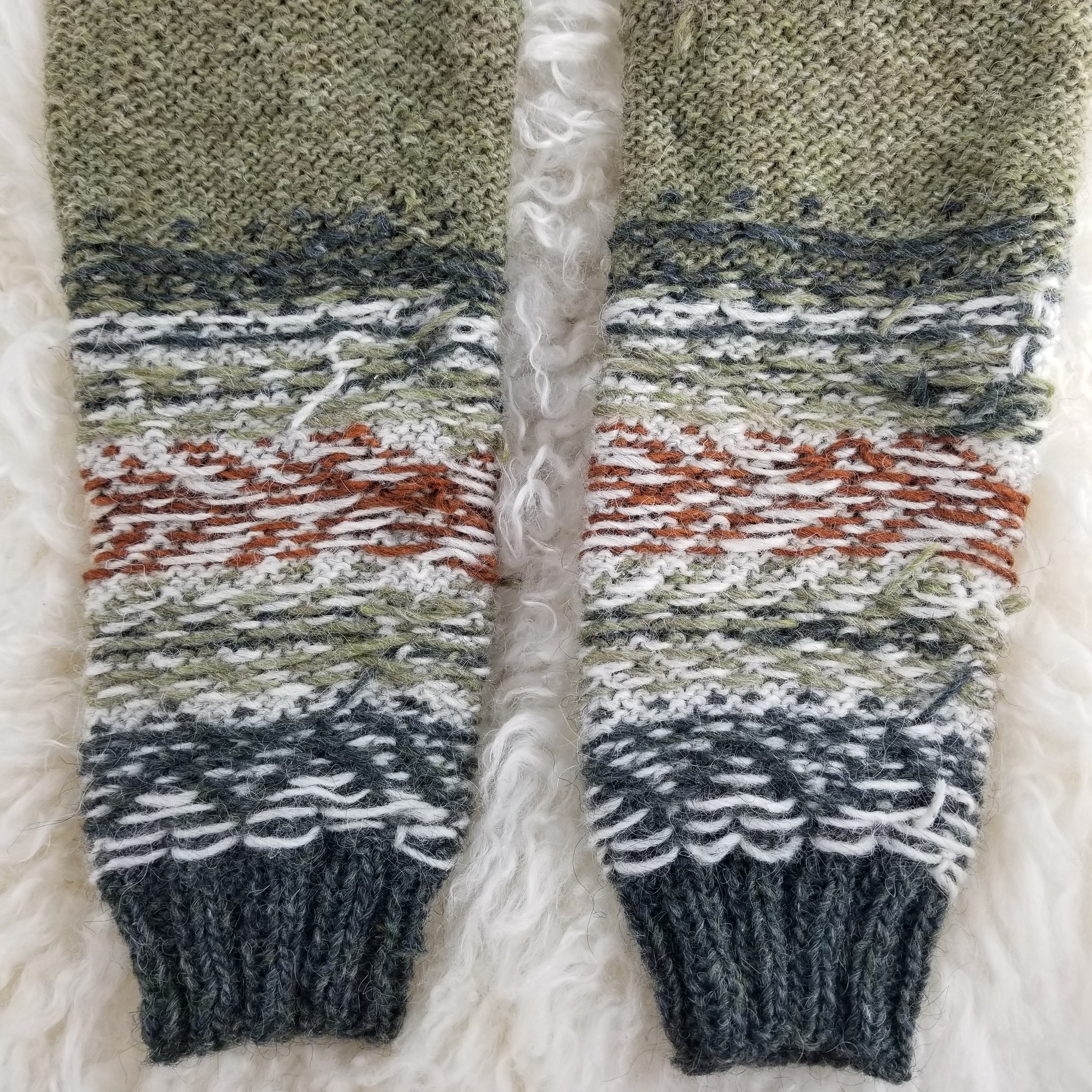 And look how tidy it is!  It's a real Elizabeth Zimmermann moment, to stand back and admire the work.  (She advocates that we should do that often, so as to catch mistakes sooner!)  I've got all the sleeve and body colorwork done, and all that is left is to finish up that nice plain knitting.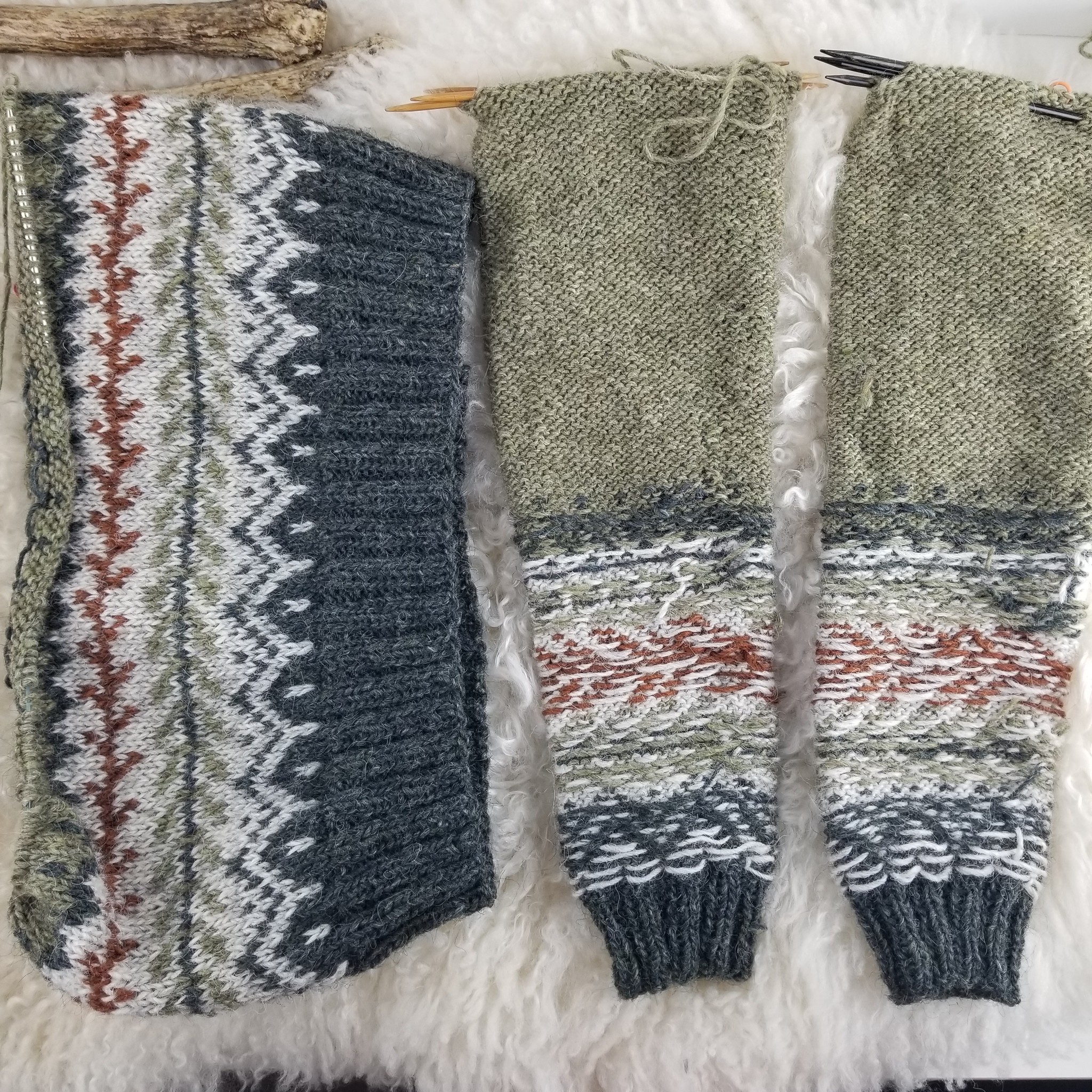 If you must put it down to thing a while, do it NOW, after the colorwork, after weaving in some ends, and while it's down you can ponder whether it needs another row or two on the body, on the sleeves, or both.  This is also the time that you can order an extra ball of body color if you've decided to lengthen things, you will know if you're about to run out.
Comments of the week---
From Marguerite:
I'm liking how this is turning out. I used the Philosophers Wool technique of stranded knitting mostly because I like the rhythm that develops as knitting but I find the inside visible result appealing.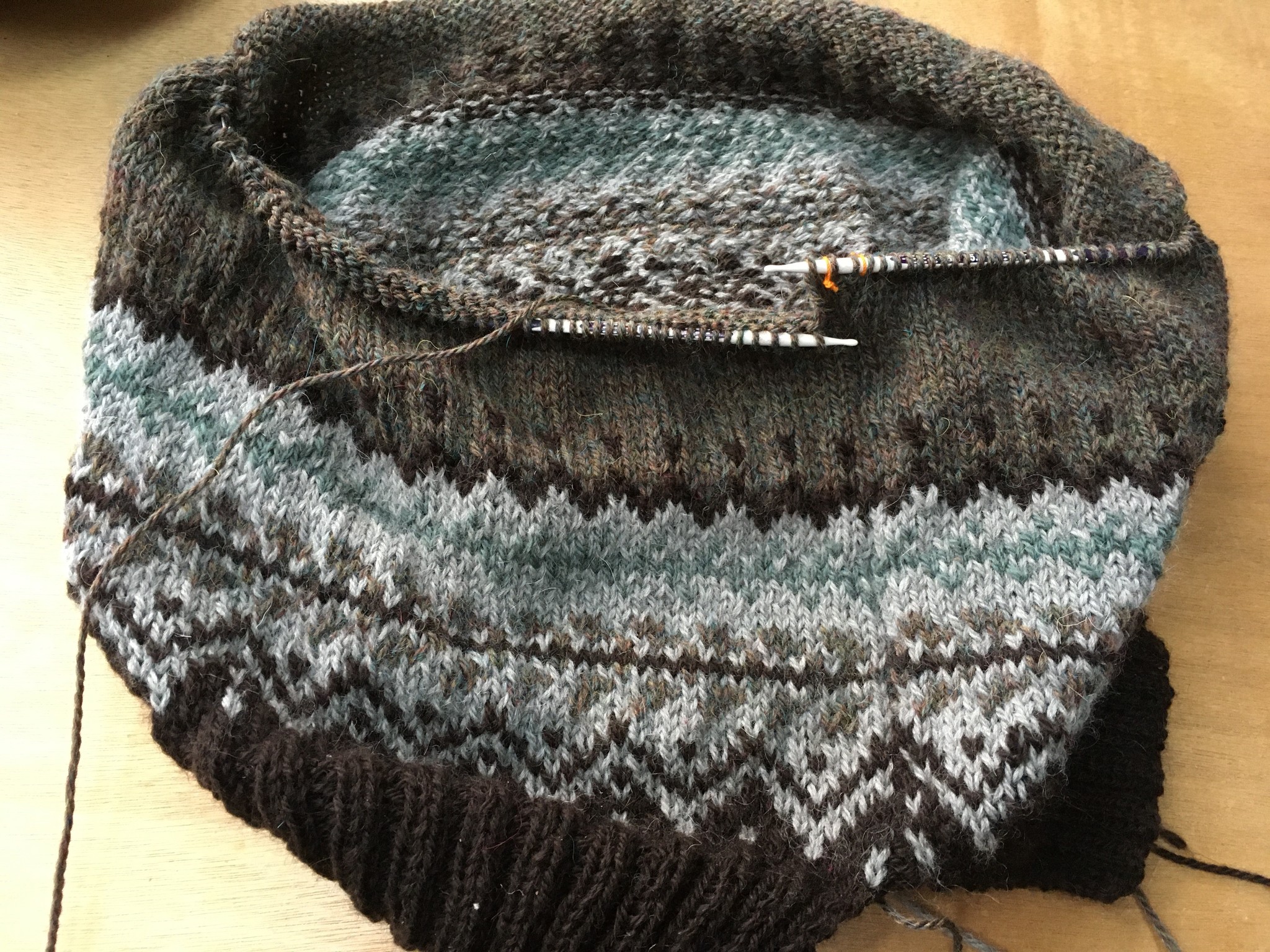 Isn't this cool?  She's been twisting the colors as she goes, and the inside has a different appearance -- it will be warmer, less stretchy, and the floats are shorter so they will be less likely to catch!
Next week: I'll be joining the parts into a whole and from there it's a fast ride to having all of the colorwork finished.  You've seen mine, now how about sharing yours? I'm giving you a week to get brave, let's share some progress pics!  Take a pic of your favorite part, or the whole thing, I know this is the community part where we all benefit from seeing everyone else's colors and handiwork.  I put a bunch of pretty yarn choices into the mail for y'all, time to show off!
Email photos to me at shelley at yarnunderground.com