A new year, more adventures in yarn. Chronicling the Steekalong event at The Yarn Underground, and other sundry bits of knitting and life.
It seems that only the possibility of cutting some perfectly good knitting gets me in the mood to blog, so here we are again! 
I do invite you to read the 8-part Maja Blog that chronicles the adventure of knitting a pretty standard lopi sweater, with a pretty and modern bit of colorwork, we had so much fun there.  And the colors used in the model are all available again, so.  That's cool.
Anyway, how about a re-introduction.  I'm Shelley, this is my 11 year old yarn shop.  It's me that chooses what yarns to stock and when, where we will put them, what samples to feature, classes and events to hold.  And a few other things.  Oh, and I dye all the yarn and fiber that is Palouse Yarn Company, an activity which happens only April - October weather permitting.  I sneak out for road trips, go rafting and camping with my husband and 2 now teenagers as often as possible.  Inspiration for me comes from nature, tuning out and recharging, hearing the wind in my ears, gazing at a wide open landscape.
I've got good help again (and a cool skein twister, what a life saver after twisting 50,000+ skeins by hand over the years) after almost 18 months solo(!), and hope they free up my time so I can spend more time here talking about yarn, shop news, techniques, what everyone's working on.  After all these years of scratching a business out of nothing, worrying through season after season, experimenting, relentlessly learning and teaching and planning for what's next, there is the obvious possibility of burnout.  It is an action of self preservation for me to change up my schedule, focus on different and meaningful work, and be increasingly out of the public eye.  And take time with my family.  I crave uninterrupted work time and lack an actual office, so I'm here when the shop is closed, a lot.
Thanks for listening, I'm not really one to love talking about myself, so how about some yarn!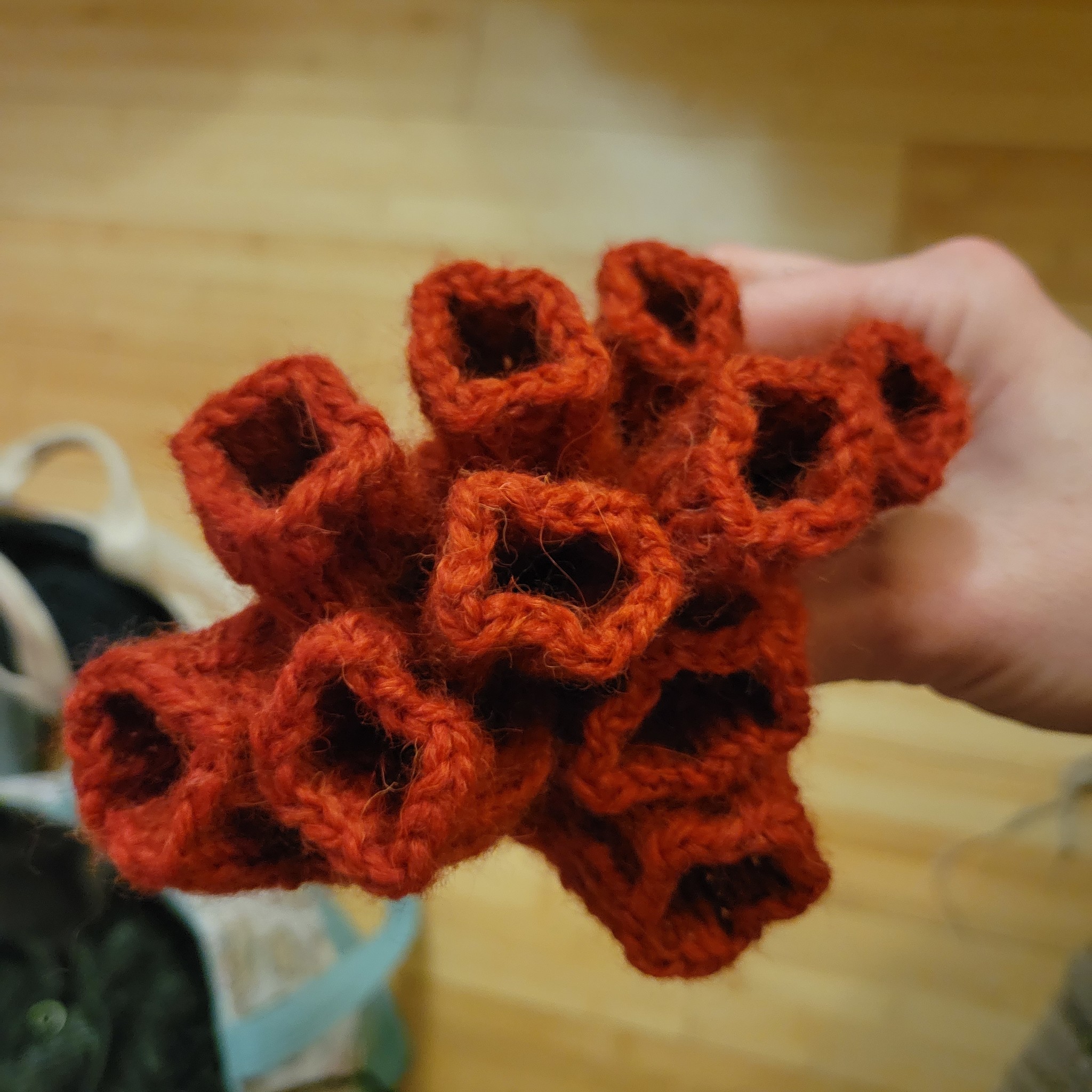 These are my new mitts that struck a chord of love in my heart for a new yarn.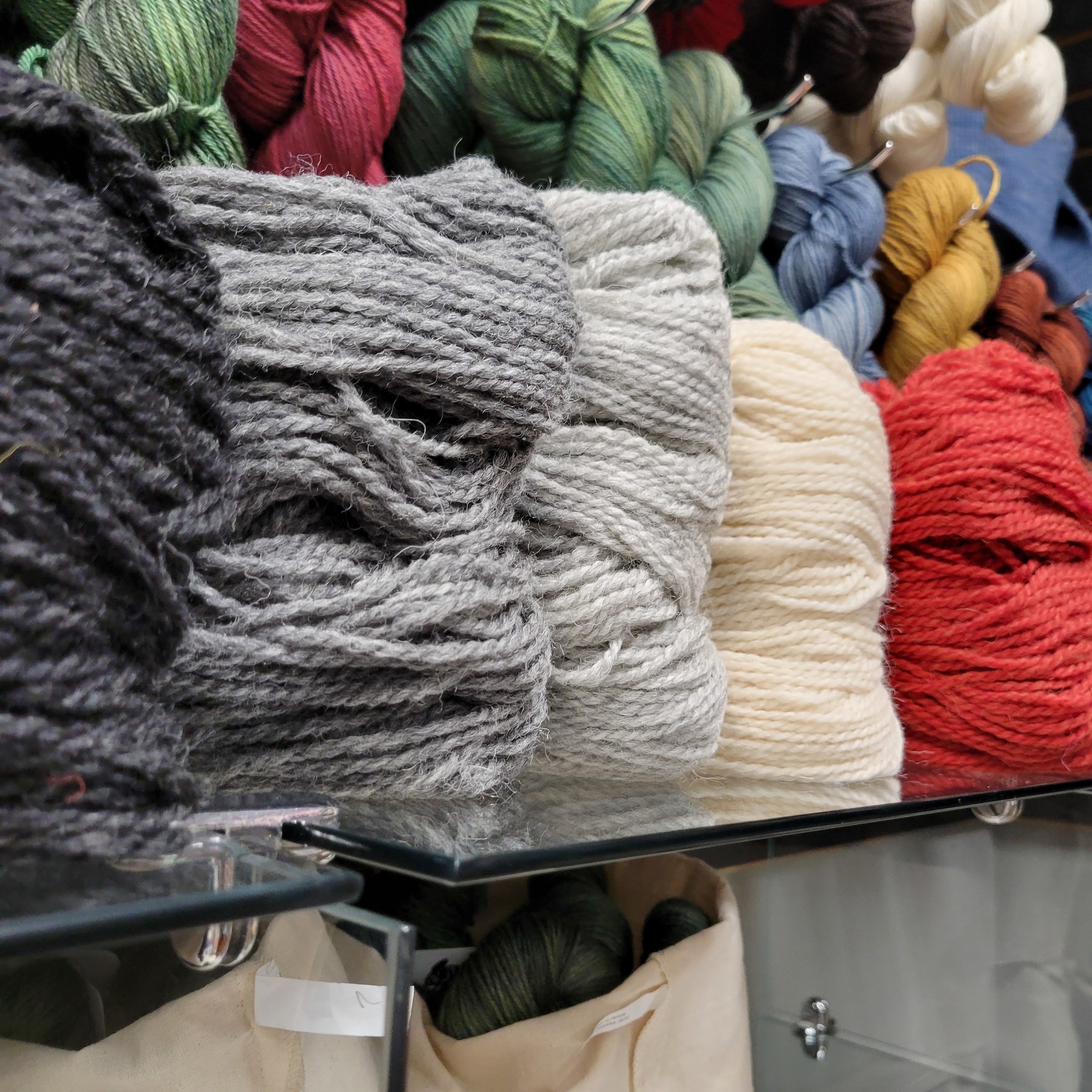 These are the really huge 200g floppy hanks of Andeamo Lite, a worsted wool and alpaca blend, that I've been itching to use.  I'm knitting color Lipstick and  Ivory.  The stock photos aren't great, but maybe I'll fix that someday soon.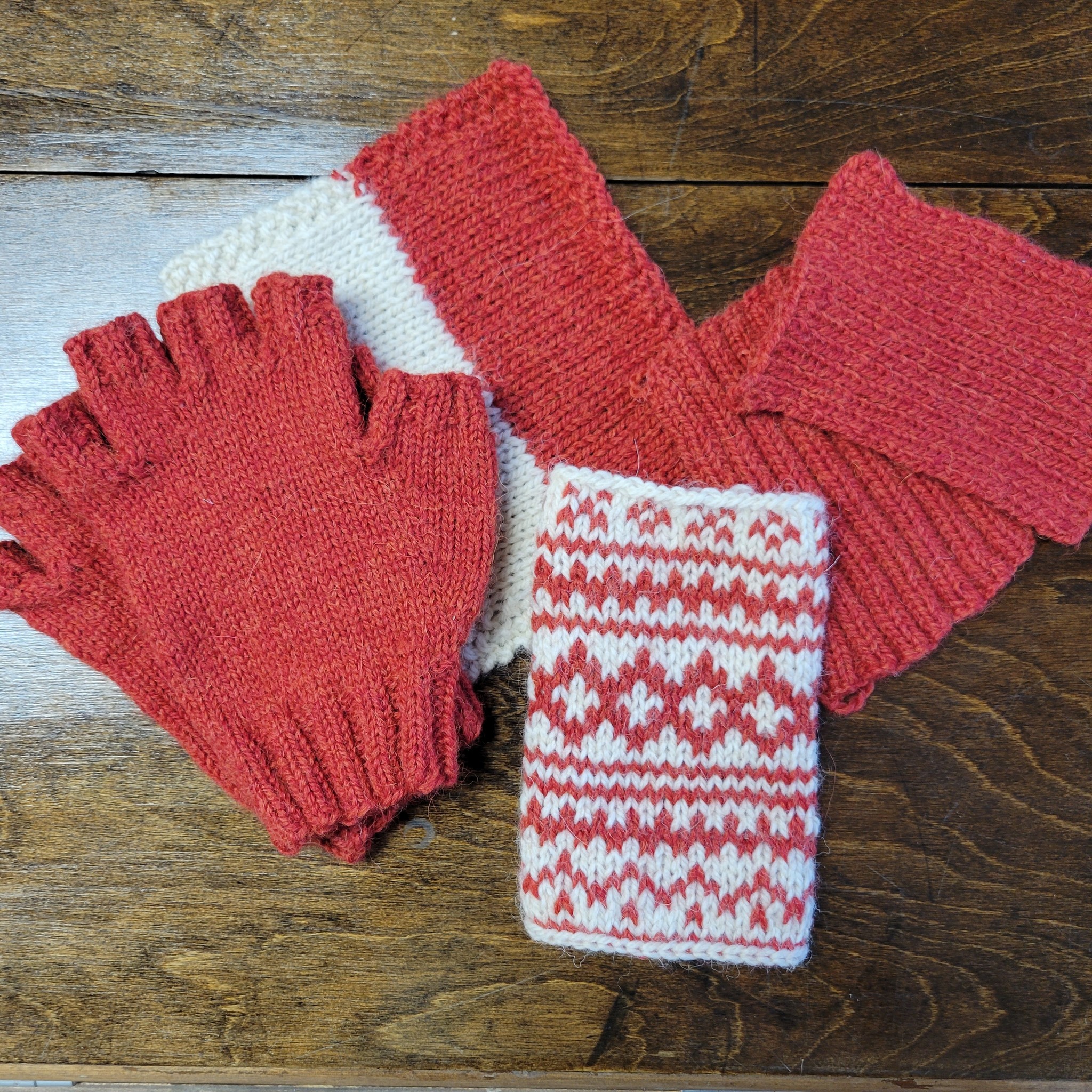 This is the pile of swatches I made after finishing my mitts. (Uh, yeah, didn't swatch for those!)
That pretty 2-color tube in the middle?  We are going to cut it this Friday nite if you wanna watch!  --- I don't come up with all the good ideas, but I know how to run with one when I see it.  Let me introduce Georgia, she is responsible for most of what comes next!
Georgia is the awesome help who has revived Stitch Night after its 1.5 year hiatus.  She's been here Thursdays 6-8 since August, and I am so glad to know she's hanging out, helping others, and keeping the yarny conversation going.  It's Georgia's idea to have a  Steek Along!
Yes, what's crazier than cutting your knitting is getting everyone you know to jump off the same cliff with you!  Here we go.  And apparently I'm not immune to the bandwagon, as I've cast on too.
What's the Steek Along?  It's an informal and free event hosted by Georgia on select Friday nights, where everyone knits on their chosen project and on the last meet up, there will be lots of cutting!  Read more here about the Steek Along, chatter on FB here if you like too.  It's  Jan 7, 7-9pm and there will be a zoom link on the same FB page.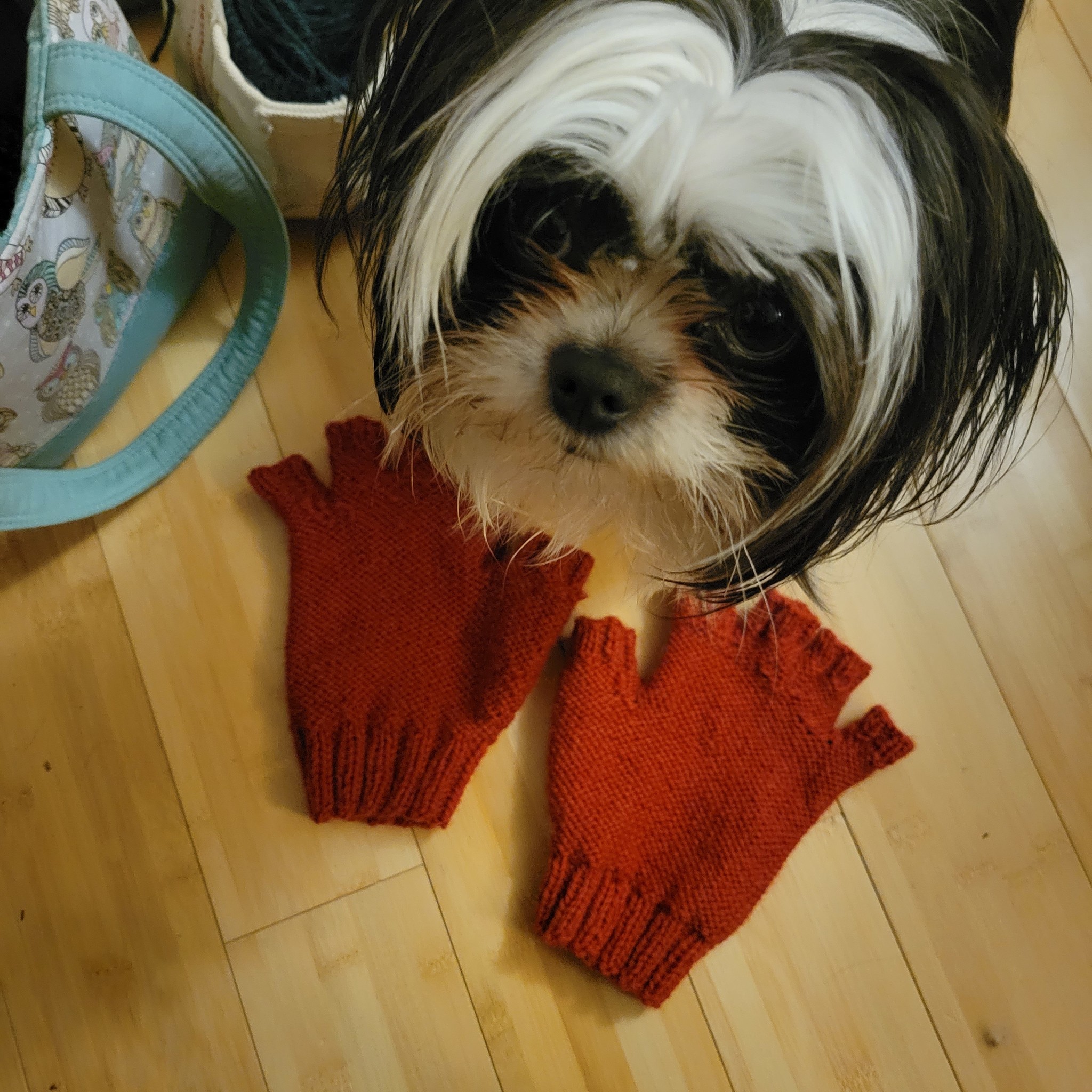 So, I'll be posting here from time to time about pretty yarn, what we are doing with it, maybe a checkin with Oreo, and other goings on.  Happy New Year and cheers to doing things you love!
And something totally unrelated but pretty to end on: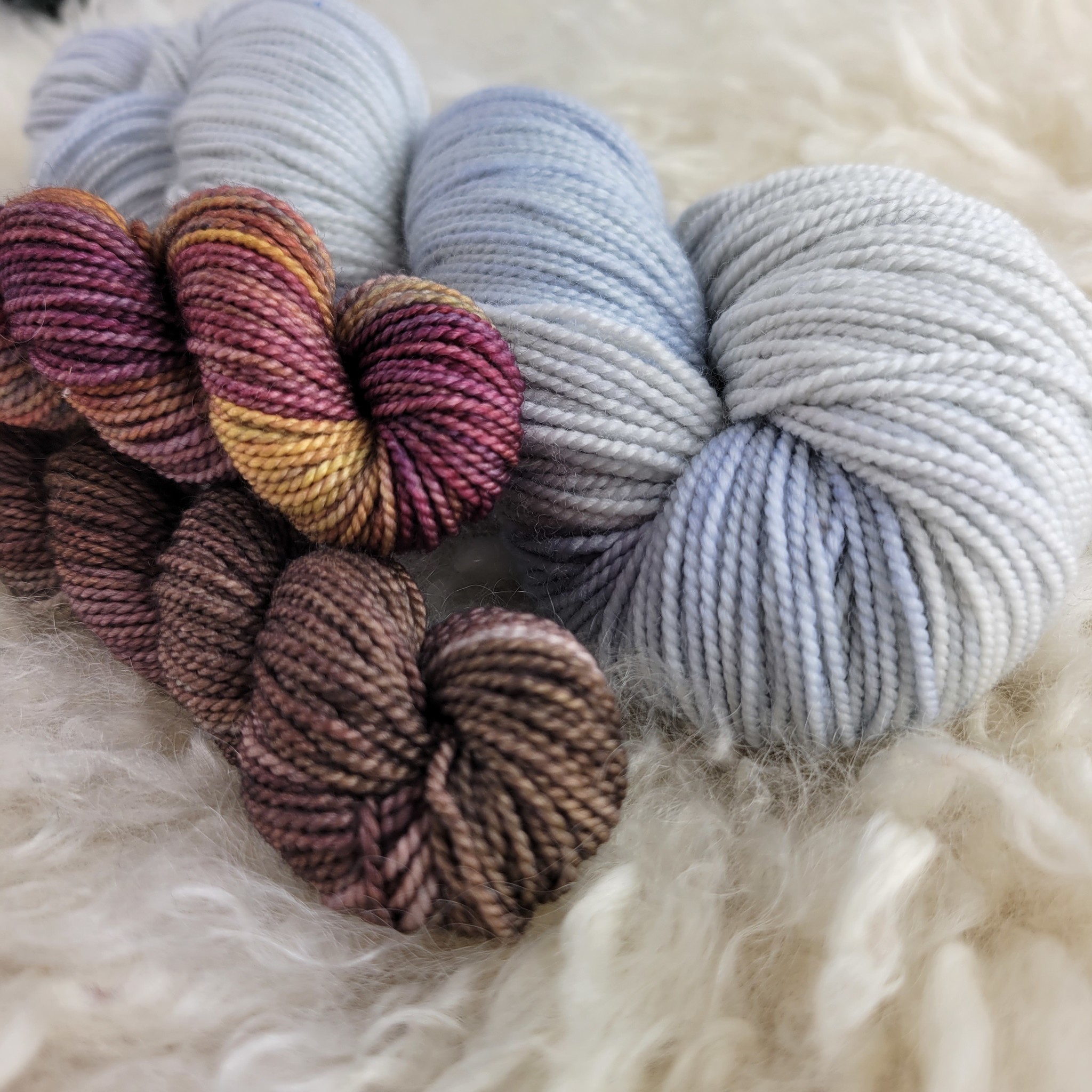 Lolo Sock Bundles, in seasonally inspired sets! Click the pic to read more, then sign up for our emails on the bottom of the home page and we will tell you when the next blog post is published.  See you next time!